Social Play / Open Court sessions
To play in one of our weekly SOCIAL PLAY sessions or Friday's Twilight &/or Sunday morning's OPEN COURT sessions for adults 25+, just turn up at our South Park Tennis Seniors Centre that is located in the parklands opposite 118 Greenhill Rd, UNLEY and register your name with the Social Play/Open Court Coordinator. Pay a $5 participation fee and they will then schedule you into matches. There is easy access to our courts via bike pathways and nearby tram and bus stops.
If you would like some additional information, please contact one of our Coordinators: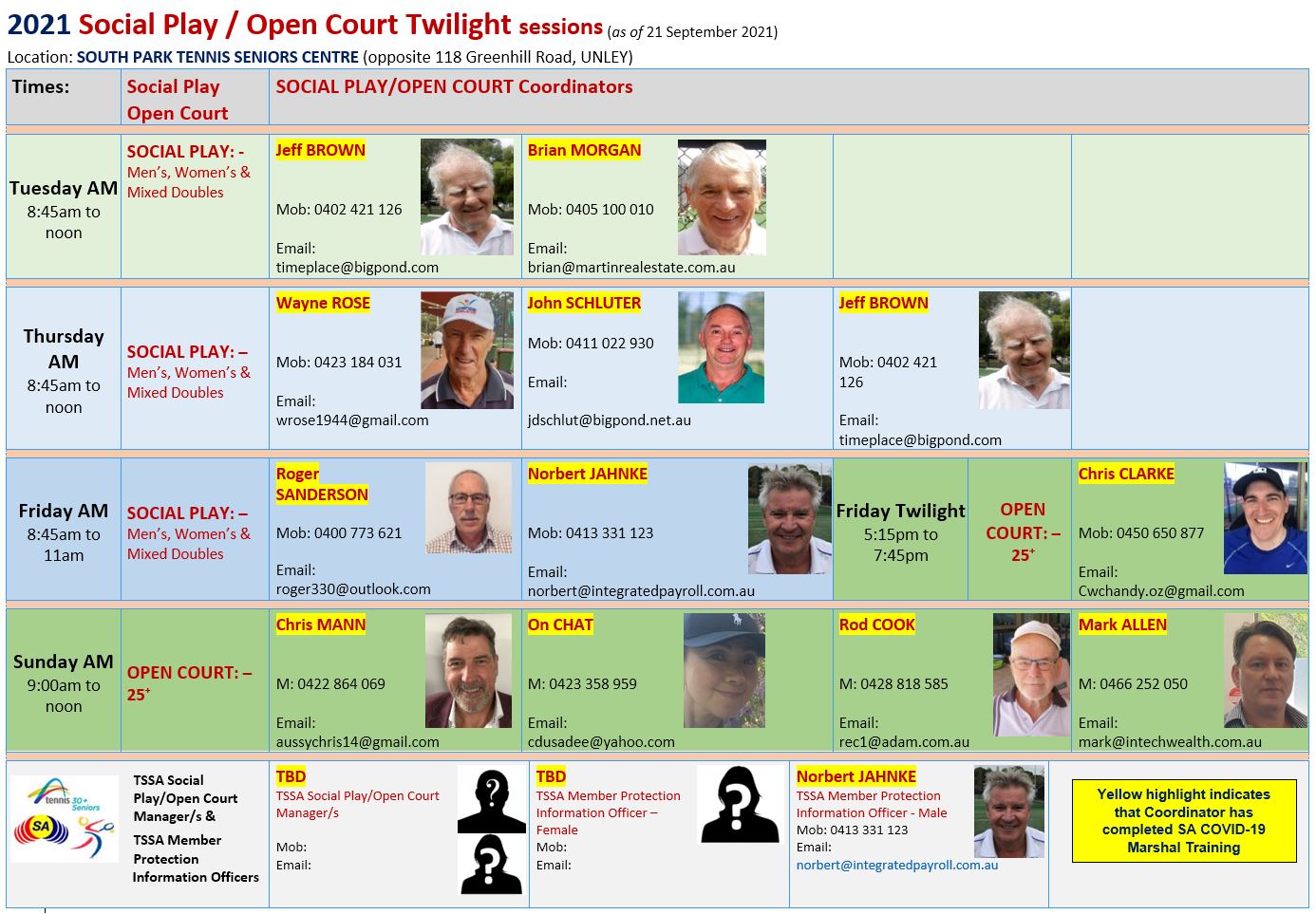 MORE INFORMATION regarding our OPEN COURT - Twilight Sessions
These sessions are held each Friday evening 5:15 - 7:45 pm at Tennis Seniors SA and are aimed at providing an opportunity for adults 25+ to come out and try, or to re-discover the joy of tennis with no commitments.

We are seeking to grow our club by encouraging current members to bring out their friends and relatives, and for local community members, and those who work nearby, or regularly pass our centre, to come out and play!
Try it out! Encourage others! Give it a go!
Each session costs only $5 per person and you do not need to be a member of the club to join in.
We look forward to seeing you at our club!
FUTURE PLANS
We are seeking for more members to act as hosts for our Open Court - Twilight Sessions and to have the bar open, with sessions being extended to 8.30pm. However, we need volunteers! If you are RSA trained or willing to undertake the training please let us know.
---
NEW PLAYERS get 3 FREE Social Play sessions in a TSSA Tennis Year (1 October to 30 September), before being required to pay the TSSA Membership Fee + TSSA Player's Fee of $100, or a one-off reduced fee of $75 if joining after the commencement of a calendar year ($50 if joining after 1 March). Regular players are required to annually pay the fees before the 1st November each year.
We are looking to offer new session times and if you want to become involved OR know of a group wanting to play tennis then contact our TSSA Secretary | Roger SANDERSON | 0400 773 621 | secretarytennisseniorssa@gmail.com |
We look forward to seeing you out and playing tennis!
---
MANAGING CORONAVIRUS (COVID-19)
A reminder that anyone entering our centre who has a smartphone are required to use the mySA GOV app on their phone and our QR code to undertake the SA Government prescribed COVID SAfe Check-In
If you do not have a smartphone then you are required to place your name, phone number and time that you entered the centre on a list for that particular session
Please note that the check-in using your smartphone or the check-in list provided for that session, is in addition to the normal sign-in processes that we require for Social Play Sessions
COVID SAfe Check-In enables SA Health to quickly contact others who may have been exposed to the virus, controlling the spread
Our QR code is displayed near the western entrance to our centre and at several other locations under the covered terrace area and near the main entrances to the clubroom
Our practices continue to be guided by Tennis SA's Community Tennis Guidelines. These guidelines reinforce the key messages that we have been communicating that include:
if you are feeling ill in any way stay at home
at all times observe the density requirement of one person/square metre and physical distancing principle of 1.5 metres distance from all others both on and off the court
engage in good hygiene practices that include greeting and acknowledging through clicking of racquets and using the hand sanitisers provided at the complex
We ask all members to observe the above conditions at all times, so that there is no need for 'marshalling!'
Officials from both the Government and Tennis SA continue to carry out regular checks on venues to ensure the rules are being followed. Heavy financial penalties as well as withdrawal of permission to hold these activities can result if organisations are found to be non-compliant.
Any members who do not observe the above conditions at the South Park Centre at any time will be required to leave the centre.
We will continue to keep you updated
TSSA Secretary on behalf of TSSA Committee