Weekly Competitions
TSSA conducts various competitions on week nights during our Summer (October-March) & Winter (April-September) seasons, with all matches being played at our South Park Tennis Seniors Centre and complying with TSSA Competition Rules.
---
2022 TSSA WINTER SEASON
(commenced Monday 2nd May)
MONDAY NIGHT:
< Mixed Doubles DIV. 1 >
< Men' Div 1 >
WEDNESDAY NIGHTS:
< Ladies Doubles (If there is enough Interest) >
If you want to be involved in a team, give the Competition Coordinator listed for the competion you seek to become part of a call and/or download the following form, fill it in, and then send it to the relevant Competition Coordinator:
< 2022 Winter Weekly Competitions - INDIVIDUAL Nomination Form >
---
MANAGING CORONAVIRUS (COVID-19)
It is a requirement for all those involved in our Weekly Competitions to check in using our QR code or sign-in on the TSSA Contact Tracing Record Sheet.
Our practices continue to be guided by Tennis SA's Community Tennis Guidelines that requires players to:
stay at home if thay are feeling ill in any way
observe the physical distancing principle of 1.5 metres distance from all others both on and off the court
engage in good hygiene practices that include greeting and acknowledging through clicking of racquets and using the hand sanitisers provided at our complex
We ask all members/players to observe the above conditions at all times, so that there is no need for 'marshalling' and we will keep Team Captains informed of further updates as they occur.
TSSA Secretary on behalf of TSSA Committee
---
Matches Results & Ladders
You can view match results via your Personal Dashboard that will be set up for you upon Registering in MATCH CENTRE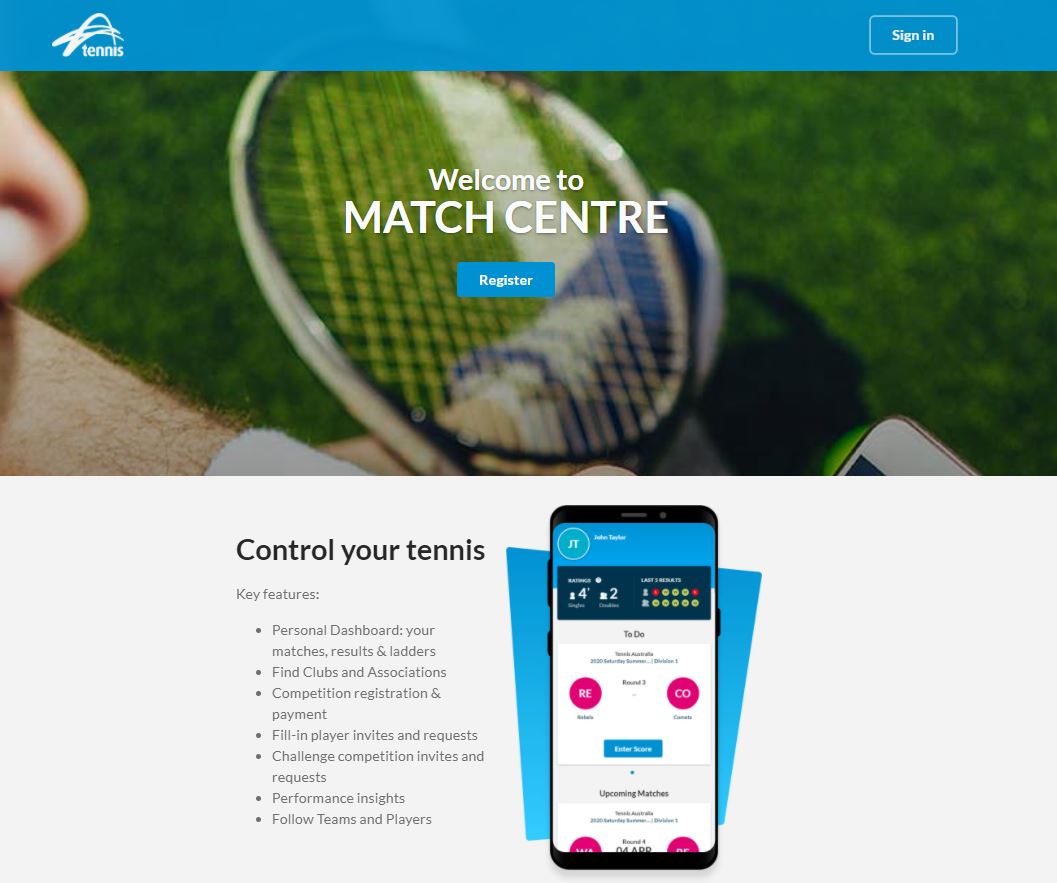 Once you are registered you will only need to Log In each time via the Match Centre webpage.
---
How to become Involved:
To become involved in our Weekly Competitions you are encouraged to either contact the Competition Coordinator listed for the competition you are interested in via their mobile phone, or just come out and introduce yourself to them (usually there 20 minutes before commencement time). You can check out the standards of play and facilities, whilst you're there.
Individual nominations are always welcomed, as all teams from time to time need Fill-in players that is often the way new members get into existing teams.
If you wish to form a team with friends let us know!
If you know anyone else interested in playing, pass their names on to us!
We are seeking to increase the numbers of teams participating in each of our Weekly Competitions, as there is plenty of capacity to accommodate new teams.
Contact Norbert JAHNKE our TSSA Competitions Manager OR the Competition Coordinator for the Weekly Competition you are interested in.
Look forward to seeing you out and playing tennis!