South Australian Tennis 30+ Tournaments/Carnivals & Events
---
2021 'Niagara' SA Tennis 30+ State Championships

In Adelaide on 14-16 November 2021 we are holding our 2021 South Australian tennis 30+ State Championships (incorporating ITF S100 SINGLES Tournament), sponsored by Niagara, proud suppliers of cycloid vibration technology (CVT) devices throughout Australia.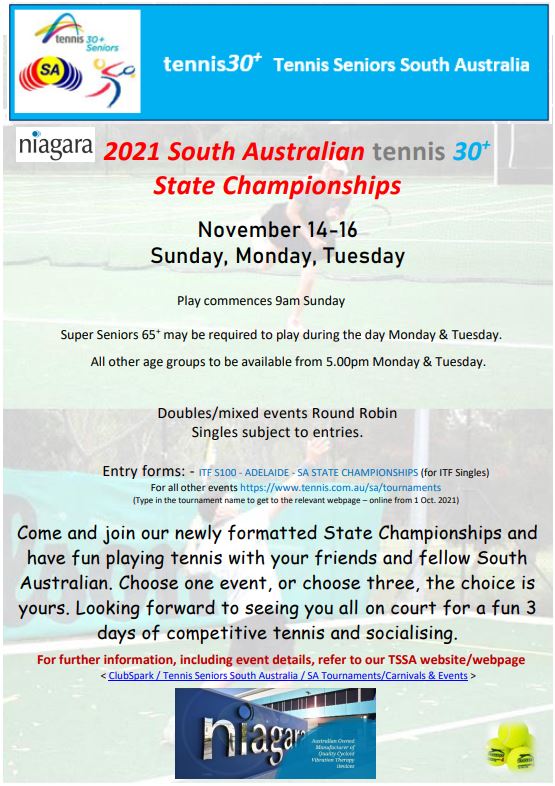 Scheduled to be held at the South Park Tennis Seniors Centre.
For detailed information regarding the tournament click onto and download the following document <2021 State Championships - INFORMATION & ENTRY FORM>
Entries & payments can be made on-line via the following link <2021 South Australian Tennis 30+State Championships | All Tournaments – Tennis Australia>
Tournament Secretary | Karen AHRENS | 0410 315 220 | ahrens@wizzbangmagic.com |
Tournament Director | Ann LANGMAN | 0431 482 035 | annlangman@optusnet.com.au |
---
other
TSSA Tournaments/Carnivals
2022
Jamestown - Annual City vs Northern Areas Tennis Match (3 Apr.)
Riverland - 34th Berri Teams Carnival (14-16 May)
---
TSSA Events
(these Events are OPEN to the public and not restricted to TSSA Members only)
2021
Adelaide Oct. (2-3) Tennis 30+ WKND Event
Scheduled to be held at the South Park Tennis Seniors Centre.
Our inaugral 2020 Adelaide Oct. Tennis WKND Event aimed to provide an opportunity for senior tennis players of all levels, and from across the state, to enjoy two fun days of tennis before commencing the summer season. It was very successful! Click onto our 2020 - Adelaide Oct. Tennis Weekend Event - wrap up & photos document and check it out.
2022
Adelaide Jan. (14-15) Tennis 30+ Event
This event is scheduled to be held on Friday Night 14 Jan. & Saturday Morning 15 Jan. 2021
We held the inaugral event on 22 Jan. 2021 and believe that we succeeded in achieving our primary goal in providing an opportunity for tennis players 30+ of all levels, and from across the state, to enjoy getting together to play tennis. Check out the following link for a Wrap up & Snapshots of the 2021 Event.
---
Tennis Seniors SA - State Team Uniform
TSSA State Team uniforms are required to be worn at the annual Australian Teams Carnival - ATC and annual City vs Northern Areas one-day tournament.
TSSA State Team Uniform Policy was ratified by the TSSA Committee on 2 October 2019 that provides uniform requirements for all selected TSSA State Team players and advice as to where state team apparel can be purchased.
---