Doubles now allowed
Sat, 31 Oct 2020 00:00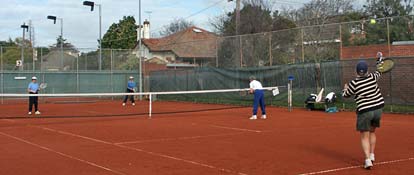 Doubles now allowed but middle courts not to be used
We finally have the permission of Boroondara Council to ease restrictions a bit. They require us to have a maximum of 10 players at the facility except where there can be 10 metres between the groups. There is no restriction with regards to belonging to the same family etc that was previously in place.
In order to allow more than 10 players we are dividing the courts into two areas which comply with the 10 metre separation rule by not allowing play on the middle courts. Courts 1 and 4 will be treated as one area and Courts 3 and 6 will be the second area. Please try and use the gate near the water tank to enter the courts to the left. We will update the signs as soon as we can but please adhere to these rules as we have been warned Council has people spot checking clubs for compliance.
All other Covid-19 measures including social distancing must continue to be followed and these can be found on our website. Hopefully it will only be just over a week before we can get back to normal playing conditions.
The Committee