Club
WCTC October Newsletter 2020
Sun, 25 Oct 2020 00:00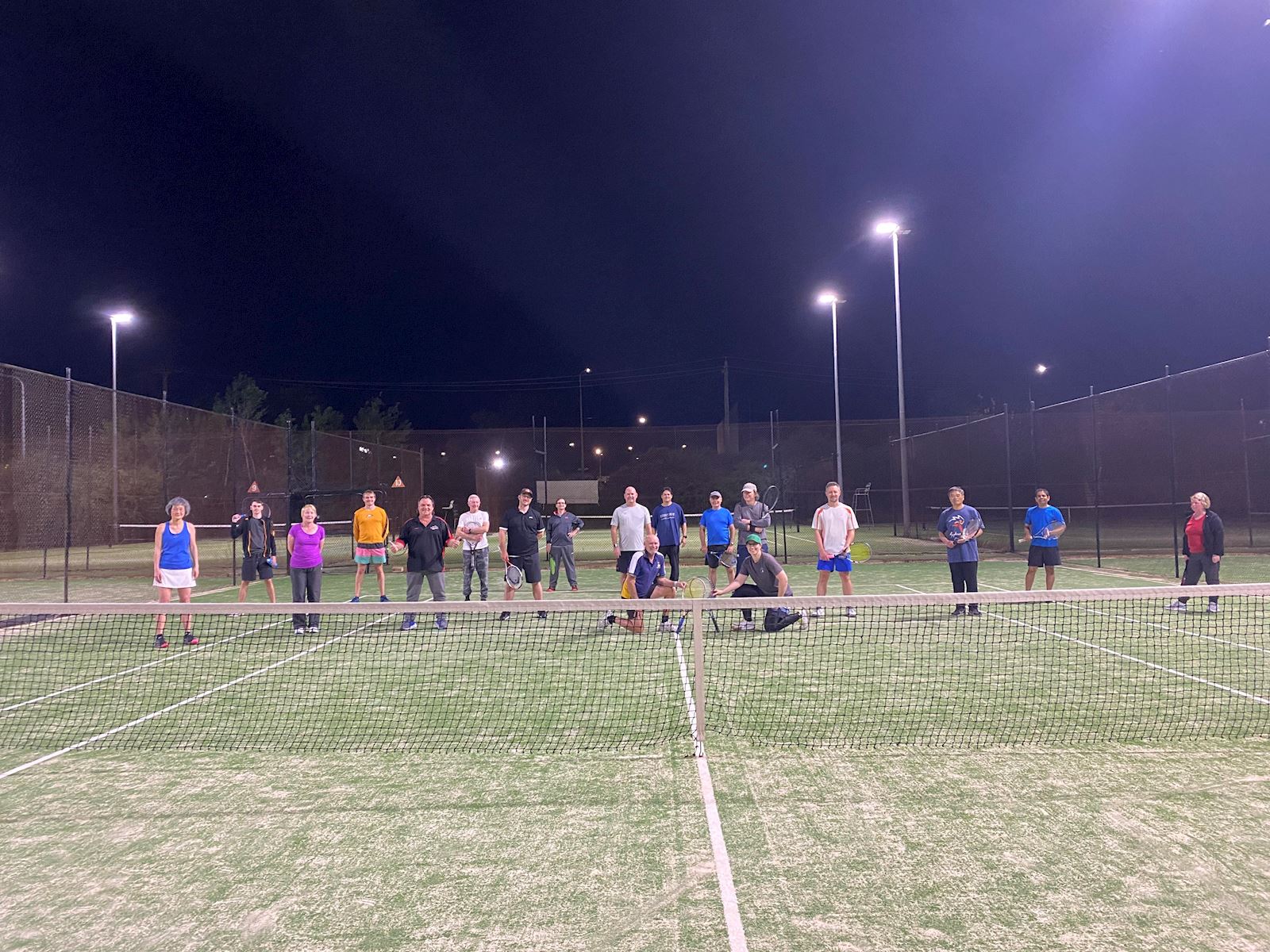 Welcome to the Weston Creek Tennis Club (WCTC) October Newsletter.
President's Message
After two months into my role as President and I am rapidly coming up to speed with the many issues before the Committee. I cannot be more pleased with the efforts of the Committee and, in particular, the hard and dedicated work of Geoff Kotz, Graeme Rossiter, Clair Dupont and Brian Chauncy. These "magnificent four" do an incredible amount of work behind the scenes to ensure the club facilities are well maintained, the membership and court bookings are being effectively managed, and communication to our members is always timely and appropriate. Their tireless work is greatly appreciated.
One activity that is in its final stages is the review of the Club's Constitution. The Committee is currently reviewing some proposed amendments which, if agreed, will make minor corrections and bring the document up to date. The amendments don't change the general purpose or intent of the document. Once the Committee has endorsed the document it will be emailed out to members before being considered at a future Special General Meeting.
This Newsletter provides details of the recently completed winter season of the Canberra Tennis League. Congratulations to all those members who participated and a very big congratulations to the Division 1 champions. A great result.
I would also like to highlight the Newsletter article on how you can assist the Club while also supporting our two very generous sponsors; the Southern Cross Club and Rebel Sport. Both these organisations have supported our Club for a number of years. I would ask that you register your name and then continue to support our sponsors whenever possible.
Finally, I would once again remind everyone to not become complacent while at the Club. We are very fortunate that the Club is open and we can continue to enjoy our tennis. Please stay 1.5 metres apart, wash your hands before and after play, and do not share water bottles and towels. Let's all do our bit to make this the best community tennis club in the ACT.
Peter Ward
WCTC President
TENNIS4TEENS
Great news for our junior female tennis players. The Club, in collaboration with our coaching team, is touching base with a great new initiative for girls in tennis. TENNIS4TEENS. The coaching team has been endorsed to run this program by Tennis Australia(TA) & TENNIS ACT for term 4. The idea of the program is to encourage girls to have the opportunity to socialise more, have fun, collaborate with ideas and have control of a program that is only for girls. We hope this will provide a fun filled environment for our junior girls and will compliment what they are currently doing in tennis. Importantly, we hope to foster a love of the game that will keep our young female players in the sport for life.
This will be the coaching teams first attempt at such a program and it will be run by our own TA certified female coach Holly Nolan.

Tennis4Teens is on every Monday from 5pm to 6:30pm, all of term 4, finishing Monday 7th December. The first session will be FREE, with the regular ongoing cost for the program being $15 per session or a full term is $115.

If you are interested or need further information about this pilot program please don't hesitate to contact Mark on 0408 486 191.

Canberra Tennis League
Congratulations to all Weston Creek teams who participated in the Winter season. A special mention to our Division 1 Thursday night league champions and our Division 4 Monday/Tuesday league runners-up. We also had semi-finalists in both divisions 1 and 3 in the Thursday night league.
The old pennant flags have been replaced by plaques as can been seen in the photo below. We hope to display these in the clubhouse.
The Weston Creek Tennis Club is well represented across the Walking Clinic 2020 Spring Adult Canberra Tennis Leagues. We have 62 players across 13 teams.
Due to unforeseen circumstances we do have a division 3 Monday/Tuesday night team looking for a reserve or two if anyone is interested joining mid-season.
Otherwise, if you are interested in joining the upcoming summer season check out the Tennis ACT website for more information. The popular Monday/Tuesday night league offers players with a mixture of singles and doubles in a quick format. The Thursday league is a great option for players wanting to play just doubles, and the recently introduced singles focused Saturday league is perfect for players looking to play a longer format.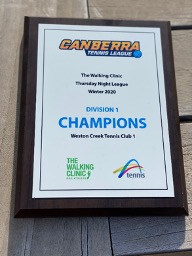 Sponsors
Canberra Southern Cross Club
The Community Rewards Program is an initiative of the Canberra Southern Cross Club that launched in July 2015. The program empowers our members to help the Community Groups that matter most to them. Through the mechanic of nominating a Community Group participating in the program, the Canberra Southern Cross Club will calculate the equivalent of 7.5% of the member's spend on food and beverages at their Woden, Tuggeranong, Jamison and Yacht Club to be donated to that group/club. More information HERE.
The Weston Creek Tennis Club is participating in the Canberra Southern Cross Club Community Rewards Program. If you would like to nominate the Weston Creek Tennis Club to receive 7.5% of your spend on food and beverages at the Canberra Southern Cross Club, please click HERE or you can link your membership with the Club when you next visit the Woden, Tuggeranong, Jamison and Yacht Club. Please note purchases at Snapper, on the MV Southern Cross or at functions are not included in this program.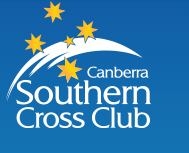 Rebel Sport
Weston Creek Tennis Club participates in the Rebel Support Your Sport Program! Under this program, our Club can earn 5% from your purchases at Rebel as an in-store credit to spend towards our Club's equipment. We have already used this credit to purchase tennis balls and other items.
Once you have joined Rebel Sport, let the cashier know that you would like to link your membership to Weston Creek Tennis Club and next time you make a purchase, the club will be credited.

ACT Residents Championships 2020
Tennis ACT is excited to announce the ACT Residents Championships will be back in 2020!

The event format has changed from previous years with the Universal Tennis Rating (UTR) being used for grading and as the online platform. Singles events will be held with players able to choose from Resident(Open) Singles or 35+ Singles. Players will then be graded and put into draws based on their UTR Rating. Please note that Doubles events will not be held in 2020.
This year players will have the opportunity to claim two titles at this event; the 2020 ACT Resident Champion, or the 2020 ACT Senior Resident Champion.

This event is open to players of all ages who are currently residing in the ACT and region.

DATE: Saturday 6 & Sunday 7 November
VENUE: Canberra Tennis Centre, Lyneham
ENTRIES CLOSE: Monday 1 November, 5:00pm

CLICK HERE TO ENTER or for FURTHER INFORMATION – 2020 ACT RESIDENT SINGLES CHAMPIONSHIPS

Note: Junior Resident Age Champions will be awarded at the December Events…more details coming soon!
Social Tennis and Coaching
A reminder that WCTC offers social tennis on Monday, Wednesday and Friday mornings from 8:30am and on Wednesday evenings from 7-10pm. Please contact Maggie King on 0432 865 910 regarding Monday, Wednesday and Friday morning social tennis and Johnny Swientek on 0400 406 687 regarding Wednesday night social tennis. More information HERE.
The Club also offers a range of coaching options for those who are interested. More information HERE.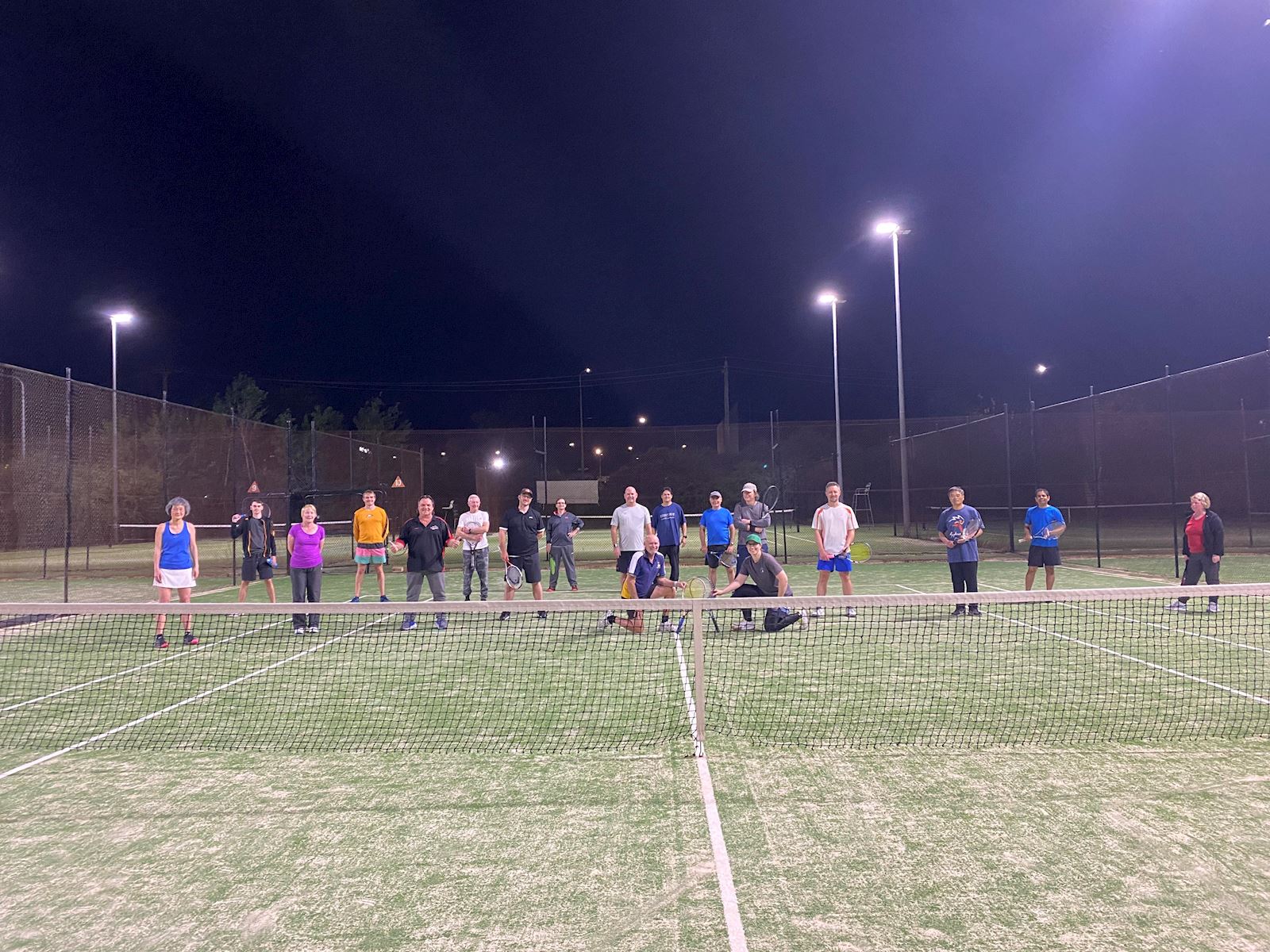 Caption: Wednesday Night Social Tennis 14 October 2020
Published 25 Ocober 2020