Men's Tuesday Night and Women's Wednesday Night Autumn Competitions 2022 have begun.
Both run for 6 weeks. Women's Night co-ordinator - Karyn Fraser, Assistant Jemma Purcell
Men's Organiser - Justin Odd
Premiership teams for 2021-2022 season
Tuesday night - Sweet Spot
Wednesday night - Leprechauns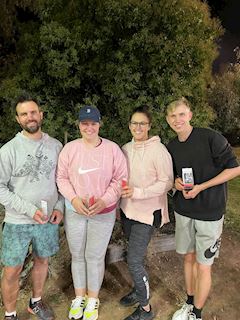 Thursday night - Pro Bonos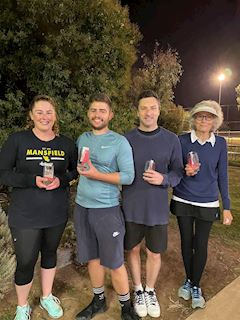 MTA Club Championships 2022
Mixed Doubles
A GRADE
Champions Justin Odd & Michelle Pigdon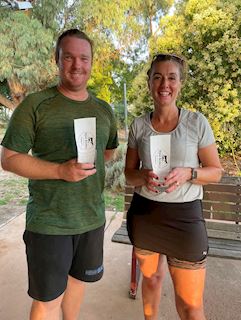 Runners Up Dan Robertson & Rhonda Carpenter
B GRADE
Champions Erich Schneider & Belinda Cipa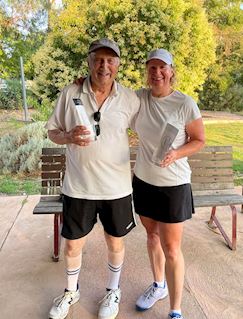 Runners Up Mark & Courtney O'Loughlan
Women's Doubles
A GRADE
Champions Kathryn Murray & Michelle Pigdon
Runners Up Karyn Fraser & Deb Mims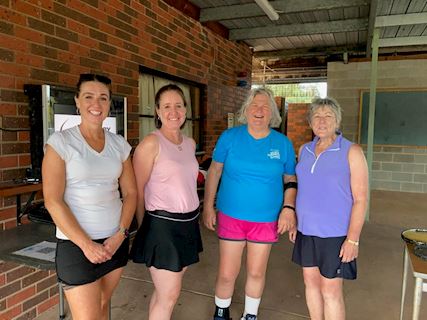 Champions Carolyn Murray & Ilena Meek
Runners Up Loretta Armitage & Courtney O'Loughlan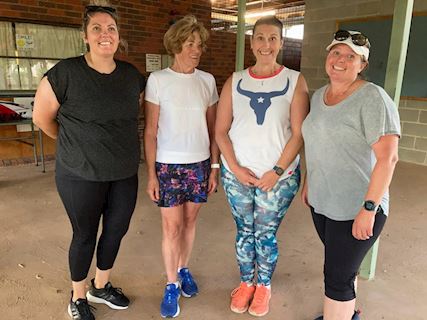 Men's Doubles
A GRADE
Champions Dan Robertson & Andrew Downey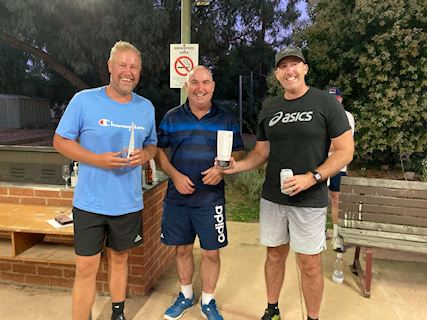 Runners Up Hans-Peter Lang & Phil Smith
B GRADE
Champions Erich Schneider & Mark O'Loughlan
Runners Up Brendan Grant & Matt Johnston
Women's Singles (one grade only)
Champion Sarah Walker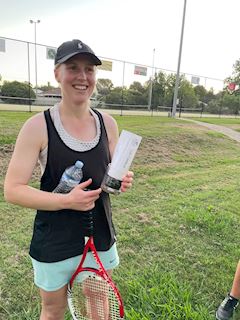 Runner Up Michelle Pigdon
Men's Singles
A GRADE
Champion Phil Smith
Runner Up Dan Robertson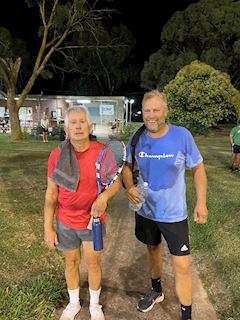 B GRADE
Champion Mark O'Loughan
Runner Up Callum Bono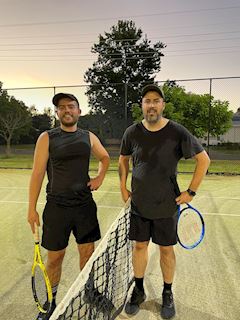 Season 2021-2022 Teams
Tuesday night teams
Hustlers Justin Odd ©Ash Day Sarah Walker Jason Peck
Scramblers Dan Robertson Karyn Fraser ©Mark O'Loughlan Matt Bennett
Grinders Jason Blake Emily Dirksen Mark Poole © James Fox
Sweet Spot Earl Ree-Goodings © Max Ree-Goodings Dion Theodossi Paul Bell
Wild Card Greg McDermott Brendan Grant © Shane Hutchinson Kathryn Murray
Cannonballs Chris Kerr © Sabastian Blac Michelle Pigdon Jaden Findlay
Hackers Andrew Downey © Rohan West Al Crockett Keira McDonagh
Wednesday night teams
Crocketts Erich Schneider Carol Watts © Helen Crockett Andrew Crockett Cathy Johnstone
Scotland Scott Ersvaer © Dustin Ersvaer Ilena Meek Bec Bolwell
GoDees David Mims © Aoidh Doyle Lisa Morgan Fem Leyson
Douglas Douglas Galbraith © Ted Lovick Belinda Cipa Paul Duncan
Leprechauns Dave Aldous © Liam Wilson Kimberley Marsden Hannah Dolling
Dundas Daniel Dundas © Angus Bolitho Loretta Armitage Courtney O'Loughlan
Hewlett Chris Hewlett Cass Daykin Julie Aldous Steph Herridge © Libby Banks
Thursday night teams
King Richards Shane Richards Captain, Kathy Brinkley, Fleur Smith, Catherine Spencer
Ghost Riders Anna Speirs, Kerrie Williams, Peter Watts, Moira Moss Captain
Bellissimo Jenny Bell, Rhonda Carpenter Captain, Ben Nally, Bob Carpenter
Diatribe Di Ellis, Rachel Parsons Captain, Matt Boon, Brendan Purcell
Pro Bonos Cal Bono Captain, Matt Johnston, Bianna Kelly, Di Bergelin
Goannas Anna Manning, Geoff Hutchison, Judy Dixon Captain, Vaughan Semler

Last Season 2020-2021 Results
Autumn competition:
Division 1 Guy Taylor and Jason Blake defeated Justin Odd and Dan Robertson.
Division 2 Hans Lang and Simon Young defeated Max Les and Max Ree-Goodings.
Division 3 Matt Bennett and Ted Lovick, defeated Matt Boon and Mark Poole.
The women's finals were a washout with Emily Dirksen and Ilena Meek finishing on top of Division 1 and Fem Leyson and Lisa Morgan on top in Division 2.
Summer competition:
Tuesday Premiers Justin's defeated Dan's 4/30 to 2/24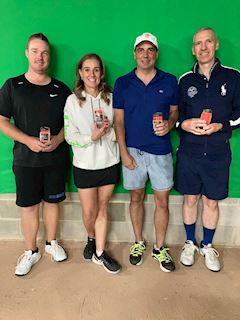 Wednesday Premiers Stickybeaks defeated Diggers 3/27 to 3/25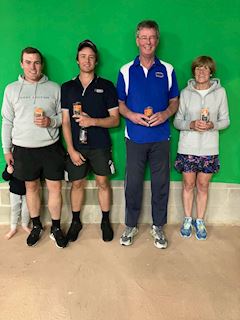 Thursday Premiers Vardy Party defeated Watts Up 3/28 to 3/25
Results for 2020-2021 Club Championships:
Men's singles
Champion Matt Daly
Runner Up Earl Ree-Goodings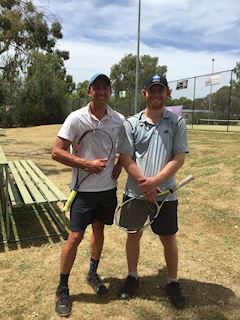 Men's Doubles
Champions Dan Robertson and Andrew Downey
Runners Up Max and Earl Ree-Goodings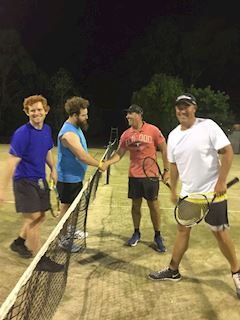 Women's Doubles
Champions Jemma Purcell and Sarah Walker
Runners Up Karyn Fraser and Deb Mims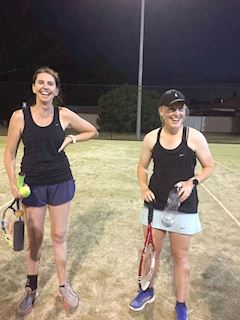 Veterans Doubles
Champions Paul Duncan and Douglas Galbraith
Runners Up Erich Schneider and Bob Carpenter
Mixed Doubles
Champions Justin Odd and Michelle Pigdon
Runners Up Dan Robertson and Rhonda Carpenter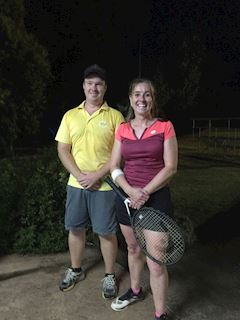 Women's Singles
Champion Sarah Walker
Runner Up Michelle Pigdon
Saturday afternoon – Benalla & District
October – March
Midweek ladies – Euroa & District
April – September
Saturday morning juniors
October – March 9 am start
Monday nights - Get Your Racquet On programme -Term 4 & Term 1 Free for members $5 non-members
Wednesday Social
All year round – 1 pm Free for members $2 non-members
Thursday Social
Summer – 9:30 am – Term 4 &1 excluding school holidays