Our History
The Courts at Elvins Street ~ a short history
1920's The Mansfield Country Tennis Association formed and used courts in town and in outlying areas from Yarck to Tolmie
1963 MTA sought permission for a tennis centre at Elvins Street on western end of land bought for caravan park by the Chamber of Commerce from George Cummins
1964 Interest bearing debentures of 10 pounds each were issued to raise funds to build courts, initially six were planned but four built.
1966 Four plexi-pave courts built from money raised by debentures
1970's extensive fund raising to pay back loans; many donated
1986 MTA became an incorporated body
1987 Clubhouse officially opened by Pat McNamara
1994 Four courts extended to 6 courts
1994 New courts officially opened by Shire President Duncan Powers
1997 Stage 1 completed: synthetic grass surface upgrade for 6 courts by A.S. Lodge and lighting for 4 courts by A.T.S. Lighting P/L
1998 Stage 2: 2 synthetic grass courts built at back
1999 Stage 3: 2 additional synthetic grass courts built – now 10
1999 Stage 3: refurbished toilets and showers
1999 Hosted The Mansfield Open – Silver Points Circuit Tournament for 10 years
2000 First Night competition began
2002 Lighting for two more courts – now 6 under lights
2007-2008 The final season for Saturday afternoon tennis; three healthy night competitions now flourished, Monday, Tuesday and Wednesday
2008-2009 Mansfield entered a team in the Saturday Benalla & District Tennis Competition and entered a team for 6 years playing home games; the final Mansfield Open ran
2015 MTA goes totally smoke free
2016 Courts 1-6 groomed; Replacement of fencing for courts 1-6; Sand restoration of courts 7 & 8; Split system put in clubhouse
A detailed history of MTA was published by Community Clubs Victoria in October 2016 in their 100 year book. Read it here: The History of Tennis in Mansfield
2018 All ages development area with practice wall and hot shots courts completed; car park relocated & new fencing
Archive of office bearers:Mansfield Tennis Association Office Bearers
Life members: Ken Evans, Bill Redfern, Bob Aldous, Betty Mahoney, Marj Hearn, Joan McMillan, Eileen Johnson, Dale Daly, Karyn Fraser, June Healy, Frank Healy, Deb Mims
Karyn Fraser
Dale Daly
Deb Mims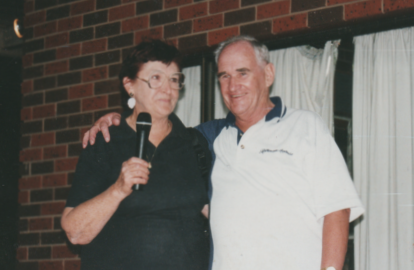 June & Frank Healy
Why the new blue court?
The project initially grew in response to the need to provide a safe area with a rebound wall for children to practice.
Past committees discussed the safety concerns, style, location and funding options were sought to pay for the wall. A range of grant applications were submitted. A good wall wouldn't be cheap despite the offers of "I can build it myself for a song" a compliant construction was required.
Sport and Rec Victoria was interested in supporting the project and came to Mansfield to discuss with us how best to apply for their grant. We had initially been knocked back but would not give up. Tennis Australia would subsidise if Hot Shots courts and programs were part of the new development. A half court idea for the strong base to the wall could include both.
When Mansfield Shire became involved community backing addressing needs and disadvantaged groups was sought and lengthy applications were written. SVR would fund a full sized hardcourt and open access facility that was disability friendly. The wall transmogrified.
Club member architectural engineer Guy Taylor redrew the plans for the vision. Discussions with the Shire Engineer led to a new location for the full size court with Hot Shot markings to go with the wall. Geo testing was completed for the new site. Our car park would be relocated. Local businesses High Country Tree Services, Lima South Quarries and Alpine Civil supported the redevelopment with discounted tree removal, gravel and earthworks; new entry and exit points were created in Curia Street.
MTA contributed funds and labour, along with the shire, and worked together with the contractor, IDWALA, to manage the project in line with the plans. The All-Ages Development Area was officially opened on April 2, 2019 by Mansfield Mayor Harry Westendorp and Tennis Victoria recognised the service of 5 MTA volunteers who had pursued the project over several years and given time to other club activities in a surprise presentation.
Benefits of the blue hardcourt
The full court is available to all, non-members and tourists without key or payment. The surface provides variation to mod grass, developing an ability to play on multiple surfaces. The all-weather surface dries out quicker than mod grass and is an area for throw down lines for other sports. Personal trainers can take groups or individuals and under lights and one court can be lit not multiples. It is another usable activity space for all schools within a walking distance.
The Rebound Wall provides an area to personally and individually improve all skills required in all aspects of tennis at any given time, either individually or within a group. It is a warmup area for before competition starts or while waiting to play.
It gives consistency for repetitive strokes, removes the need for hitting against clubhouse and in the car park area, and increases fitness, agility, and co-ordination as well as better ball control.
Targets and other markings for focus in various other sports and reflex activities can be used and the wall can be used by all standards – incapacitated, beginners, average skill level, competent and professional.
Junior development courts
Hot Shots is a fun way for kids to learn tennis and is internationally recognised (Hot Shots uses smaller than regular courts, low compression balls and larger racquets) The Hot Shots courts line markings are clearly visible.
Primary schools can use them for programs and increase development for all phases of childhood. They are a pathway to senior tennis, a coaching area, and a way to support membership.
Fully fenced and not locked court
The court is accessible and available to all ages, groups, non- members, and visitors to the town at any time of the day as our other courts are locked. It is a safe and secure area separate from the car park and near the club house facilities - toilets, playground, and kitchen.
Disability access
The fully sized court provides disability access on a surface suitable for wheelchairs and better than our existing mod grass courts. It offers a safe physical space for the visually impaired, the deaf and those with autism or cerebral palsy to undertake any movement activity.