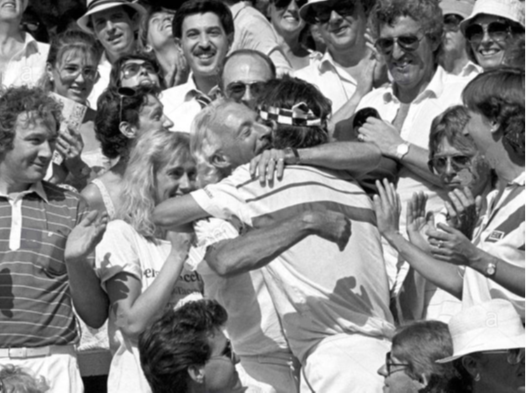 When a handful of local families got together in 1966 and decided to start the Heatherdale Tennis Club, I don't believe in their wildest dreams they could have possibly imagined the impact our club would have on the local community and the world of tennis in general.
This is the story of how the Heatherdale Tennis Club, starting from very humble beginnings, became the most well-known local tennis club in the world in just 15 years.
With the belief that the essence and future of our club was in the support and development of the junior players, in 1973 it was decided that a full-time coach should be appointed at Heatherdale.
At the very same time a young man with a real passion to help and develop junior tennis players decided to leave his commercial arts trade and take up full time coaching.
Call it fate or just blind luck, either way, out of nowhere an incredible partnership was formed between Ian Barclay and the Heatherdale Tennis Club that would forever change junior tennis in Australia.
At that stage junior competition was traditionally doubles or mixed doubles and there weren't any real junior development programs available for aspiring young players.
However, Ian, "Barkers" or "Mr B" as he had become known, believed playing singles was essential to develop young players and get them to think for themselves. So, together with Geoff Spruzen (Heatherdale's junior convenor at the time), they began lobbying to have singles introduced into the junior competitions. Not getting the result they were after, Ian and Geoff created their own unofficial pilot scheme with the surrounding tennis clubs.
After two successful years of this pilot competition, the local association finally established a combined singles and doubles competition on Saturday mornings and singles/doubles as we know it today was born.
Ian's next step was to completely change the way promising juniors were developed. At that time, the pathway for aspiring juniors was to be coached one on one by the so-called elite coaches, and this came at a price many couldn't afford. Ian's idea was simple; bring the aspiring players together in a squad where they could bring out the best in each other and he could see exactly where they needed improvement and work on that with them. Before long one of his students invited a school mate along to join in, an 11-year-old by the name of Pat Cash. Barkers saw something in him, but knew he had plenty he needed to work on.
From there Ian's development squad idea took flight and before long his students started winning everything, taking Australian junior titles in different age groups, and dominating wherever they went. It was then the Australian Tennis establishment decided to start their own junior development squads headed by John Newcombe. Today development squads are an integral part of junior development.
Back then Ian was faced with the question "where do we go to from here?" At that stage the only available option was to start playing against seniors.
Once again Ian looked outside the box and believed that, in order to take this group from the Heatherdale Tennis Club to the next level, they needed to go overseas and take on the prestigious European Junior Circuit. Once again there was no interest or support from the Australian tennis establishment to take on something like this. So, in conjunction with the committee and members of the Heatherdale Tennis Club, Ian went about making it happen. Seeking sponsors and fundraising at every opportunity they managed to get together the funds for the trip, which was at the time considered a fortune.
Arriving in Europe, Barkers believed his Heatherdale group was going to set this place on fire and dominate the circuit. The reality however, was the exact opposite and, although our group had a superior attacking game, the opposition had a far superior defensive game and fitness level.
Now armed with the knowledge of what it would take to be the best of the best (which they would not have known if they hadn't made this first trip) the Heatherdale group came back to Australia and for the next 12 months worked tirelessly on improving their fitness and defensive game.
Then the whole process of raising funds and getting sponsorship started again. Ian and the Heatherdale juniors headed back to Europe and this time it was different. The Heatherdale team dominated the circuit and the tennis world stood back and said "how is it possible that all these champions come from the same local tennis club?" It was this that made the Heatherdale Tennis Club the most well-known local tennis club in the world at that time.
It was only then that the Lawn Tennis Association of Australia (now known as Tennis Australia) came on board bringing not only ongoing financial support, but a big-name sponsor in National Panasonic. Top juniors from other states were introduced to the side, which gave them the opportunity to not only learn from Barkers, but also to compete overseas against the world's best. This new team once again dominated the European Circuit.
In the following years, the Pat Cash – Ian Barclay combination became world renowned, reaching the ultimate prize of winning the 1987 Men's Wimbledon Championship. Even though Barkers spent most of his time travelling the world with Pat, he still spent as much time as he could coaching at Heatherdale, which was left in the good hands of Mike Spruzen. Mike was a student of Ian's, a past men's champion at Heatherdale and is still a full-time coach today. Many of Ian's other students also became renowned full-time coaches. Rohan Goetzke was not only a student of Barkers and also a past men's champion at Heatherdale, he also became a full-time coach and went on to coach Richard Krajicek to win the 1996 Men's Wimbledon Championship.
In 1987 after winning the Wimbledon singles championship, Pat Cash was the first player in history to climb into the stands and make their way up to the coach's box. (Pictured above) Barkers and Pat's journey from Heatherdale to Wimbledon was complete.
After hearing from members that had been around the club for many years and then reading Mike Spruzen's book 'GOING TO THE NTH DEGREE' it was clear that Ian's wife Jackie was the glue and magic that brought it all together. Her love and dedication for her own family spread to all the up-and-coming juniors. She became their second mother through all the ups and downs both here and travelling to compete overseas. She was also a dedicated mid-week ladies' member at Heatherdale. Unfortunately, Jackie passed away in 2012 and although I never got to meet her, I know I can safely say Jackie played a huge part in making the Heatherdale to Wimbledon story come about.
There has always been something special about the Heatherdale Tennis Club and that is still true today.
We have a great coach in Jarrod Savage, backed by his fantastic coaching crew, some of which have been coached by him as juniors and are becoming great coaches in their own right. Jarrod's junior programs are simply outstanding and, in addition, he is also running a very popular cardio program at the club that makes getting fit fun, and just as popular is his ladies tennis development sessions for all levels. Another area he excels in is working with disability which is wonderful to see, along with all the additional work and involvement he provides to develop our high-end players and teams.
In addition, the club has a tremendous strength and conditioning coach in Michael Rodda who is transforming people's lives. Michael is offering his services to the broader community with programs such as This Girl Can, working with the NDIS and helping people so out of condition that they can hardly walk and taking them to a place where they can get back to living a normal life again. In addition to the incredible work he does with our members to help condition them to meet the demands of playing tennis, individuals and groups from other sports such as football and netball come to the club to use his services.
Have we got our next Grand Slam Champion in our junior ranks right now, or are they just around the corner?
Either way, we have made some tremendous improvements at the club in the last few years and moving forward, we are committed to bringing even greater changes such as LED court lighting that will further enrich the lives of our members and community.
I would like to give special thanks to Mike Spruzen for the many years of dedication he has put into researching and writing his book 'GOING TO THE NTH DEGREE, The Ian Barclay Story' and allowing me to use it to write this story. This book is nothing short of amazing. It covers Ian Barclay's life story as well as the history of the Heatherdale Tennis Club. It covers the players involved, as well as many well-known characters that make up his story, including the infamous Bobby Riggs, that the film Battle of the Sexes was based on. It covers Barker's incredible success on the world seniors tour as a player as well as his battles with the tennis establishment. It goes through the 9 years where Ian was the head junior coach of England's Lawn Tennis Association (LTA) (the equivalent to our Tennis Australia) and how he transformed their junior program with incredible success. It includes the long list of prestigious awards he received which culminated in his inclusion in the Queen's Birthday honours, receiving an Order of Australia Medal for his contribution to the sport of tennis.
I can highly recommend this book to all our members and to anyone that loves a good story about success and achievement. Copies of the book are available for sale at the club.
In 2013 Tennis Australia made a 5-minute video on Ian Barclay entitled My First Club. This will also give you an insight to the great man. You will find this video on the following link.
https://www.tennis.com.au/video/2013/12/09/my-first-club-ian-barclay