Improving our Facility
The Gardens Tennis facility consists of 12 hard courts under lights, a kiosk/ pro-shop, a hitting wall and air-conditioned clubhouse. In line with Gardens Tennis Club objectives, we are working hard to develop and implement a Facilities Master Plan with defined annual items and costs.
Upgrade to BBQ Area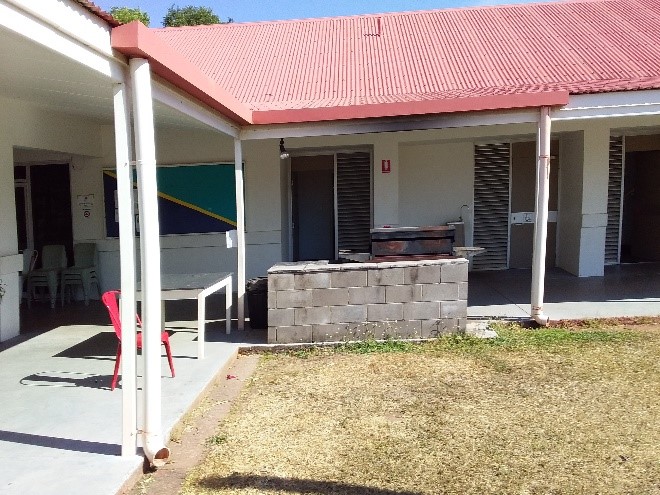 Gardens Tennis was successful in receiving a $28,163 major grant from the Northern Territory Government Community Benefit Fund, to significantly upgrade the BBQ area, in order to increase the community useability of the Club.

Upgrading the existing BBQ area will include laying a large new concrete slab, installing a substantial new BBQ, installing purpose-built storm water guttering and downpipes, providing electrical connections and new lighting to the BBQ enclosure, which will be newly covered with protection from sun and rain.

Upgrade of the BBQ area and associated improvements will greatly facilitate more social, community and family friendly activities at Gardens Tennis, including better support for junior and School competitions and events and greater use of the Club by external parties including local Schools.
Masterplan for Gardens Tennis
Gardens Tennis Club was awarded a Northern Territory Government Department of Sport and Recreation 2015-2016 Facilities and Capital Equipment (FACE) grant of $18,000 to undertake a major facilities master planning exercise for the Gardens Tennis Centre.
The first stage of this master planning project was a geotechnical investigation of the Gardens Tennis Centre site carried out by Cardno Ullman & Nolan. The main findings of the study were that the cracking and distress to court surfaces observed at Gardens Tennis is most likely caused by seasonal moisture change in the subgrade, poor drainage across the court areas and corrosion in aggregates in the pavements. The recommended best option for remediation is to replace and re-profile court surfaces and to renew some or all of the pavements.
Report on Cardno Geotechnical Investigation
The findings of the geotechnical study fed into a facilities master planning exercise for Gardens Tennis conducted by SportDev Pty Ltd, one of the premier sports master planners in Australia. Following consideration of comments received from members and other stakeholders on a circulated draft, the Gardens Tennis Facilities Master Plan was finalised and submitted to the Northern Territory Government as part of the acquittal of the 2015-2016 FACE grant
A major task going forward will be the implementation of the Gardens Tennis Facilities Master Plan.