Daniel Carroll is the Club's full-time professional coach and Coordinator of Junior Tennis.
Noosa-Tewantin Tennis Academy offers a variety of lessons, fixures, competitions, tournaments, and holiday coaching clinics to help improve your game.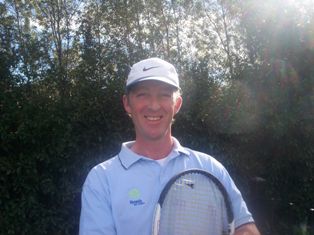 Daniel Carroll is a qualified Tennis Australia Level 2 Coach and former international player, experienced in all aspects of tennis coaching and training.
His programs are not only designed to gently introduce players to tennis, but also to accelerate their competitive tennis skills and teach them court etiquette, tournament preparation and the ability to manage a busy playing schedule.
Noosa-Tewantin Tennis Academy * Daniel Carroll - Phone 0421 328 384 Email sydmorg@iprimus.com.au
TENNIS COACHING FOR CHILDREN AND ADULTS
Whether you are a novice hitting a ball against the garden wall or dreaming of victory at the Australian Open, Noosa-Tewantin Tennis Academy's team of experienced coaches can help take your game to the next level.
Choose a private coaching session at a time that suits you. For a more social option, we have group coaching available for adults and children. With classes catering for all levels of experience, from beginners to advanced players, group coaching provides a perfect opportunity to develop your skills whilst getting to know fellow tennis enthusiasts.
Watch your child progress from an absolute beginner in Tennis Australia's Hot Shots Red, Orange, and Green Ball lessons and competitions to a tennis champion working their way through to our advanced squad programs without ever having to leave the club. Our classes have every coaching level covered to ensure you reach your absolute potential.
JUNIOR GROUP LESSONS (age 5-17 years) Monday to Friday from 3.00 pm
JUNIOR PRIVATE LESSONS (age 5-17 years) Monday to Friday by appointment
ADULT GROUP LESSONS Monday to Friday - AM & PM
ADULT PRIVATE LESSONS Monday to Friday - by appointment
JUNIOR SCHOOL HOLIDAY COACHING CLINICS First week of every school holiday period
JUNIOR lN-HOUSE COMPETITIONS Fridays from 3.00 pm
For further information, contact Daniel Carroll:
Mobile phone: 0421 328 384
Email: sydmorg@iprimus.com.au
Click Here for latest Holiday Coaching Clinics