Holiday Program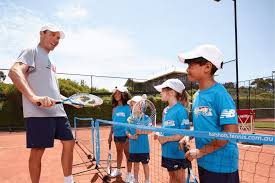 There will be no excuse for boredom during the school holidays! Tennis Rockhampton hosts fantastic junior clinics to help young tennis stars develop their skills, meet new friends, and most importantly – have fun!
Holiday Camps:
Next holiday clinics are from
-
Join our performance coaches for a mix of fun, technical and physical activities that cater for players of all standards between the ages of 5—16 years. Prizes for all players, free racquet hire, entry to pool, morning tea and lunch all included for all players coming for full day. Drop off from 8.30am (clinic from 9.00 – 12.00) and late collection (until 12.30pm available.
Each clinic will include:
Expert tennis coaching,
Tournaments and match play,
Team challenges,
Prizes and giveaways,
Lunch Provided - (only applies for full day clinics ie. 9-3)
Multi-sport activities
FREE racquet hire
Children aged 5 to 16 years are encouraged to register – For more information including prices, discounts, and times or to register please contact us on 4922 5181 or email; info@tennisrockhampton.com.au