Juniors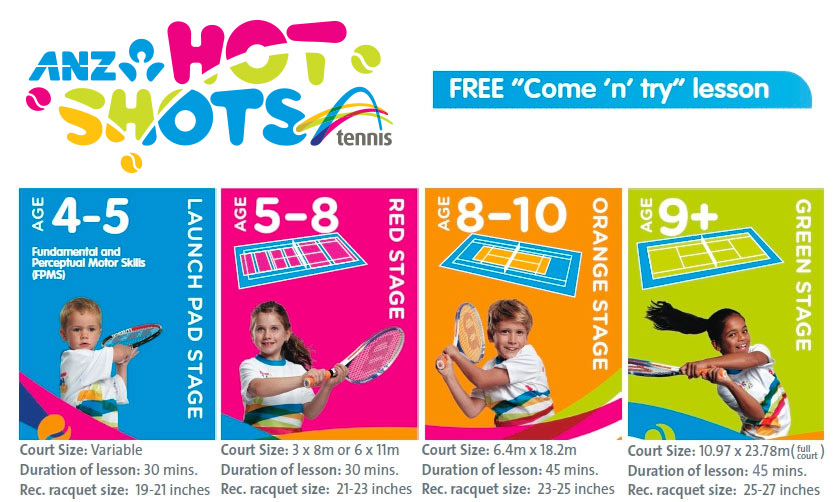 HOTSHOTS: Blue, Red, Orange & Green Levels
BLUE LEVEL: 3 – 5 Years | 30 Minutes | Mini Court:
This Program is aimed at developing foundation skills that are integral in any sport and strongly focuses on motor skills, co-ordination, tracking, balance and spatial awareness. The tennis racquet is introduced at this level for developing the basic fundamentals.
RED LEVEL: 5 – 8 Years | 45 Minutes | Mini Court:
This Program has been specifically designed to further develop the player's foundation skills whilst introducing and developing racquet control and basic tennis strokes. Players will also start to understand serving, points and boundaries. This is also the level we we start guiding children into our 'Junior Fixtures' which is a fun-based competitive opportunity and children get the opportunity to play the sport like their hero's that they admire on TV.
ORANGE LEVEL: 8 – 10 Years | 60 Minutes | 3/4 Court :
The Orange Tennis program focuses on the player profession from a mini court to a 3/4 court. The Orange program continues to concentrate on the player's stroke technique, spin control, pro service and return with the emphasis on control and consistency. Orange ball players also begin to develop more tactical awareness at this stage.
GREEN LEVEL: 9 – 12Years | 60 & 90 Minutes | Full Court:
The Green Tennis program focuses on preparing the player for the transition to the full ball game. This dynamic program further refines the player's game with the key focus points on strength, spin control, tactical awareness and technical fundimentals.
TEENAGERS: Challenger and Academy Levels
Challenger
12+ Years | 60 Minutes
The Teen Tennis program is designed for teens of varying standards to come along and develop their tennis game in an easy going environment. Teens will benefit from a high standard of coaching without the expectation of a high performance level. Teens are encouraged to get motivated and play competition at recommended standards.
Academy
The Cairns Tennis Academy is for performance juniors looking to take tennis to the next level and are heavily involved in tournaments outside of the CITC. This hollistic programme takes in other key fundimentals of the sport including 'Mind, Body & Soul' and juniors are expected to demonstrate our key vales on a consistent basis being:
Gratitude
Empathy
Mindfullness
The programme gives the opportunity of over 10 hours per week of contact time that is divided into:
Squad Training
Yoga
Fitness
Doubles
On top of the potential for 10+ hours per week there will be week end tournaments and mentoring from our professional 'Academy' coaches.
Any questions can be directed to 'Baseline Tennis Coaching Academy' Head Coach: Wayne Fielder: 0421 200160