Lifestyle Strength and Conditioning

Welcome to Lifestyle Strength and Conditioning with our Physical Preparation Coach, Michael Rodda.

PHYSICAL PREPARATION COACHING
Physical Preparation Coaching is another term for Strength and Conditioning Coaching
At very high performance levels of sport, the strength component of training is extremely important as the skills and fitness levels are usually very developed already
At the youth and social levels it is more about preparing the body to perform sport (or life activities) safely and comfortably so that it is enjoyable and to enhance performance
Most of what I do is physical preparation
It may involve some different levels of Strength Training

ALL PROGRAMS ARE OPEN TO THE PUBLIC.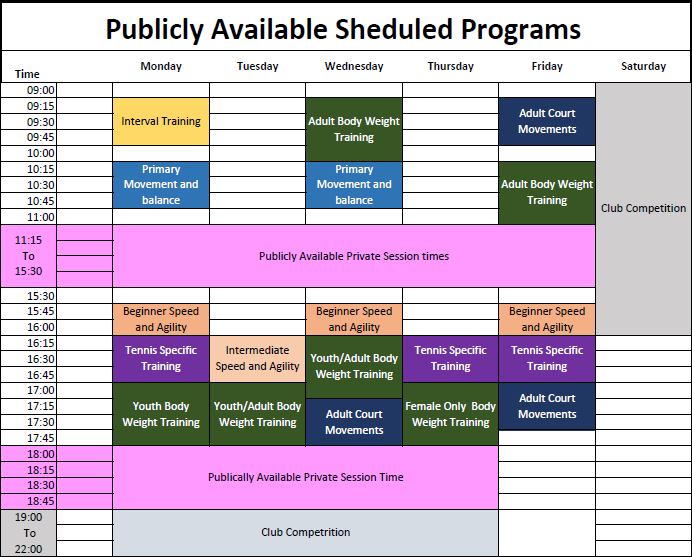 CLUB MEMBERSHIP IS NOT REQUIRED
YOUTH PROGRAMS
• Introduction to Speed and Agility
• Intermediate Speed and Agility
• Tennis Specific Conditioning
• Youth Body Weight Training
• Girls Only Body Weight training
• Customised Private sessions

ADULT PROGRAMS
• Primary Movement and Balance
• Adult Court Movement
• Interval Training
• Body Weight Training
• Customised Private sessions

INTRODUCTION TO SPEED AND AGILITY
Introduction to Speed and Agility is a program designed for Primary age students
In this session we teach balance, co-ordination and biomechanical movement through specific movement based activities
Research indicates that 8 to 12 years is the best time to commence this type of activity
These session are 30 minutes and available during the school term

INTERMEDIATE SPEED AND AGILITY
Intermediate Speed and Agility is designed for secondary school students or primary school athletes students with advanced sports performance
In this program we continue with the balance and coordination but add a more competitive performance sports focus on speed generation and high performance agility
The program provides Injury prevention through correct bio mechanical training of feet, ankles, knees, hips and core
This is a school term based program
Tennis Specific Condition uses a combination of Speed and Agility programming as well as Tennis specific movements and footwork drills
Tennis uses unique blend of fitness and rapid energy recovery systems. Tennis specific training incorporates this into the sessions
Weight Training has been proven both safe and effective in progressing youth into higher levels of sport
The ASCA has a 54 page "youth weight training position statement" and this program is based on that
There are 6 fundamental weight exercises undertaken and they are progressed through technique, then range of motion and intensity is increased by altering the plan of motion
Up to 10% of body weight can be added once the fundamental technique is taught. Further weight progression occurs following completion of a gender specific weight training technique 18 point test
Only soft weights and resistance bands are used

GIRLS ONLY - BODY WEIGHT TRAINING
This program uses the same ASCA Youth Weight Training guidelines Many females do not think of weight training as something women do. Gym environments, robust males grunting and the banging of heavy weights can be intimidating. Female only allows the girls to learn at their own pace with other girls.
Body weight is a great way to gain strength and self confidence
This program promotes empowerment and Independence in females
Weight training is a body healthy activity for anyone.
Important in life and sport
Strength and Conditioning is about providing sport specific training, individual to the sport and the athlete
With customised sessions, we can create a total training plan from off season to pre season and then during the season
training programs to elicit the best sporting performance possible
The best athletic results come when the athlete performs 3 to 5 hours of additional training using the information and skills taught during the session.
Customised privates can also be used for families to spend time together in a healthy non competitive environment.
Primary movement. Simply learning how to move your limbs normally and with a good range of motion
Balance. What is required to prevent falling over
This session can be used as Rehab following Surgery or injury, it can be used to regain confidence in general daily movement and some use it as a stepping stone to more advanced fitness programs once they have relearnt movement and balance principals
We have had people from 40 years old with neurological balance issues to 75 years old in this group. Those that stick with it gain better mobility and confidence moving.
Casual attendance, no term booking
This course is the extension of primary Movement and balance and is designed for people who play court or field sport to learn/reinforce correct movement patterns or to improve general fitness
Correct movement patterns reduce injury risk and improve sporting performance
Participants work at there own level Casual attendance, no term booking
This is a high level of cardio style training
It incorporates training the three different energy systems in the body
Anyone can do it
You work at your own level
Small class sizes to enhance supervision to learn correct technique and improve longer term fitness
Current Australian health guidelines recommend 2 weight training sessions per week
Weight training does not have to be with external weights, we can just use our bodies and gravity
Learning body weight techniques can allow you to train at home or on holidays
No equipment required
Anyone can do it
You work at your own level
Casual attendance, no term bookings
For further information or bookings please contact Michael on 0438 632 181 or lifestylestrength@bigpond.com