COACHING

At the City of Camberwell Tennis Club the TOTAL TENNIS team provide; Professional tennis coaching, Cardio Tennis, Adult groups, social tennis, competition, court hire and Pro Shop services, for players of all ages and abilities. Club members and local community are welcome.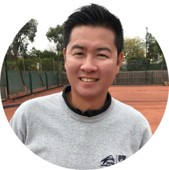 Head Coach - Tim Wang
Tim played of the ATP Tour, played Davis Cup for Taiwan. Tim's students have included; Latisha Chan who won the US Open Women's Doubles with Martina Hingis, Chia-Jung Chuang Semi Finalist Australian Open Women's Doubles. Tim was the accredited Australian Open Coach for Chia-Jung Chuang for 3 years. His team currently offers coaching and support to a range of elite junior tennis players who are competing and winning local and national tennis tournaments.
For further enquiries please contact Tim Wang – 0404 634 157 or email totaltennisacademyau@gmail.com
The objective of TOTAL TENNIS coaching is to provide an environment where kids and adults can develop their potential while having fun and building a healthy attitude to competition. For more information click TOTAL TENNIS.

Private lessons: Ideal for players of all abilities seeking high performance coaching on selective areas of their game. Typically private lessons generate faster skill development than group lessons.
Group Lessons: The current syllabus is based on the "Game Sense" model of developing and understanding the game of tennis. Pupils continually "Play the Game" and learn; WHAT happens, WHEN it happens, WHY it happens and HOW it happens. They are then motivated and shown how to ACQUIRE the skills. More information click here.
Competition Tennis: Internal and interclub. City of Camberwell Tennis Club competes in the Waverley and District Tennis Association, in Junior, Senior and Mid-Week Ladies competitions. Hot Shots gameplay, Children have the opportunity to experience and learn how to play the game of tennis using modified courts and equipment.
Pro Shop Services: All player requirements are catered for including - Restrings, racquet advice, over grips, bags. Also, several local sports stores provide discounts on recommendation from TOTAL TENNIS.
Court Hire: Court bookings and/or hire is done through the club's Book-a-Court page.
For coaching information in Mandarin, please contact Sherry via WeChat ID: sherryhumelbourne
中文網球課程諮詢請至全球網球學院網頁 - 學院經理 Sherry 微信帳號 sherryhumelbourne