Book a Court Frequently Asked Questions (FAQs)
Sun, 31 Oct 2021 00:00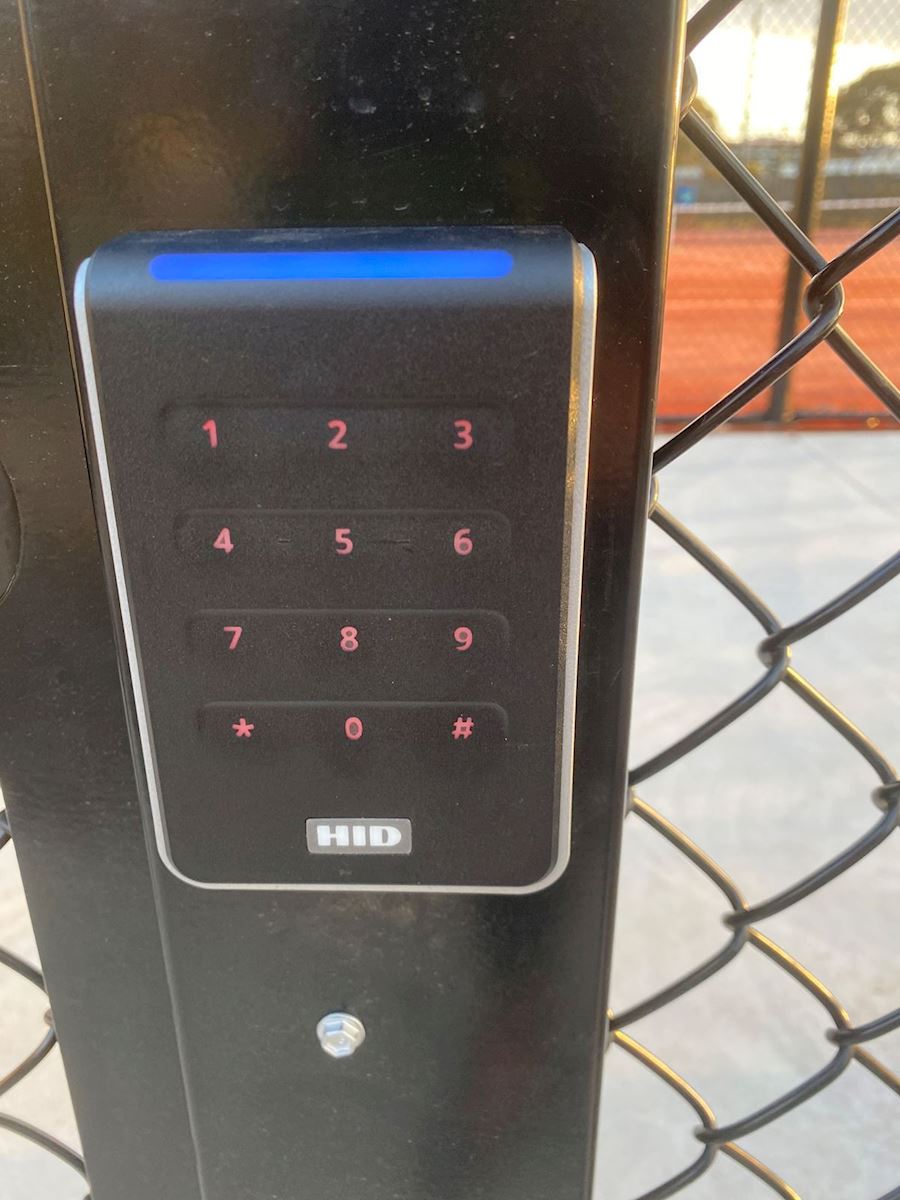 What is Book a Court?
Book a Court is an online court booking and payment platform that connects with pin pad technology on the club's gate. It allows club members to book their court online for a particular time.
What are the benefits of Book a Court?
Improved booking process (gives control, flexibility and freedom)
Greater security for players
Visibility of courts dependent on time and surface
How does Book a Court work?
When members book a court online they are sent a unique 4-digit PIN via text and/or email, which must be entered into the pin pad on the gate. This opens the gate at that particular booking time.

Who can book courts?
Currently, only club members are able to book courts. It is free for club members to book courts.
In early 2022, the club's upgrade works are expected to be completed, meaning there will be 11 courts available again. At this point, the booking system will be opened to members of the public, who will need to pay online each time they book a court. This provides court access to more members of the community, and offers the club a new revenue stream.
I'm not currently a member – how can I book a court?
Sign up and pay for your membership online to start booking courts immediately.

Alternatively, court bookings will be available to non-members from early 2022 for a fee for each booking.
I don't want to book my courts online – how else can I do this?
All members are required to book their courts online.
What does it cost to book a court?
Court bookings are currently only available to members of the club, and it is free for members to book courts at any time of the day or night.
Why do I see a 'padlock' icon on the booking sheet and I can't log in?
Members must log in to book a court and they must use the same log in method that they used to originally sign up online for membership. This could be email + password, Facebook or Google. You must use the same method every time, otherwise the system won't recognize you. If you're struggling to log in, try another log in option and see if this works.
How long can I book a court for?
Court booking periods are for 30 minutes and a member can book up to three 30-minute bookings per day.
When can I book a court?
Members can book courts anytime during club opening hours.
Off-peak members may only book courts between 7am and 3pm on week days.
How many times can I book a court?
Members can book a court every day.
When does my pin code work?
Your pin code will activate the gate and the lights, if playing at night, when you have booked a court online. Your pin code will activate the gate up to 15 minutes before your booking time, and up to 15 minutes after your booking time ends.
Can members bring a guest?
Members are welcome to add and pay a guest (non-member) at the time of booking their court. It is $10pp per guest booking and guests MUST be registered and paid for, for insurance purposes.
Do I need to add the other player/s to my court booking?
It is optional to add other members to your booking. You must, however, add any guests (non-members) and pay for them online.
How do I know if my booking is confirmed?
When members successfully make a booking, they will receive a text and/or email confirmation with their pin code and additional information.
How do I open the gate?
At your allocated booking time, enter your 4-digit pin followed by #.

Your pin will activate the gate 15-minutes before and 15-minutes after your allocated booking time.
Could a player get locked inside?
The gate lock has a latch on the inside of the gate which means a person can exit at any time, regardless of whether they have a valid PIN or not.
How do I switch the lights on?
The lights are controlled via a sunset sensor and they automatically switch on when there is insufficient daylight. The lights will only be triggered if a valid pin has been entered at the gate. Therefore, even if the gate is open (ie: during coaching), members must enter their pin so the system recognises to switch the lights on at the correct time.
Why didn't the lights come on when I had a court booked at night?
Court lights only activate when they system recognises a player has arrived for their booked court time. The only way the system can recognise you're there is if you have entered your 4-digit code. This applies even if the gate is open - for instance, if coaching is happening. If this is the case, simply close the gate and enter your pin code. Lights will automatically activate via a sensor, when it gets dark enough.
When will the lights switch off?
The lights automatically switch off 15 minutes after the booking period ends. This ensures members can leave the centre safely.
Why do I have the same pin code for every booking?
Each member has their own unique 4-digit pin code. However, this pin code only activates the gate if the member has a corresponding court booking at that time.
How do coaching participants or competition players open the gate?
The coach and match secretaries will book courts for the required period and during this period the gate will remain unlocked. This means coaching participants and competitors can simply push the gate to open, as the gate will not be locked during coaching or competition periods.

What happens if my code doesn't work or the gate doesn't open?
Make a video of the problem and email this to: admin@altonatennisclub.org.au to report the issue.