Port Fairy Tennis Club
Welcome to
Introduction
THE COURTS ARE NOW OPEN
COURT BOOKING
PLEASE BOOK 20 MIN PRIOR TO YOUR PREFERRED TIME.

Non members and friends of tennis pay $10 per hour. [lights additional $10/hour on court 1 ONLY]

Members only pay for lighting

Choose time & pay online to receive the gate code. Simply visit our Court Hire page.

PLEASE BOOK AT LEAST 20 MIN PRIOR TO YOUR PREFERRED TIME.

SUPER LATE SEASON MEMBER RATES NOW APPLY- become a member and SAVE.
COVID-19 PLAYING CONDITIONS : PLEASE READ
PLEASE ENSURE YOUR HANDS ARE CLEAN before arriving. BYO SANITISER.

GET IN, PLAY AND GO HOME.

ENSURE THAT YOU SANITIZE YOUR HANDS BEFORE USING PIN PAD AND OPENING DOOR ..... AND AGAIN BEFORE YOU LEAVE COURTS. Or bring a plastic bag for no touch entry.

keep your distance (at least 1.5 metres apart) & tap racquets not shake hands!

maximum of 10 people on a court!

No off court gatherings..

Social distancing must be practiced at all times.

Refrain from touching net, winders and chairs.

Risk warning: You acknowledge that by using the tennis courts and playing tennis you will be exposed to certain risks, including the risk of physical injury. You may also be exposed to the possibility of contracting an illness, including without limitation the COVID-19 virus. The COVID-19 virus can spread very quickly and result in very serious medical complications in some people. You agree that the use of the tennis courts is entirely at your own risk. You have read and understood this risk warning and voluntarily accept and assume the inherent risks in use of the tennis courts and playing tennis.

Return to Tennis Guidelines: It is important that we all take precautions to prevent the spread of COVID-19. Guidelines have been developed to reduce the likelihood of contracting the virus while playing tennis. Before playing tennis, please review the guidelines which are available here: https://www.tennis.com.au/vic/files/2020/05/Return-to-Tennis-Guidelines.pdf . You must consider your individual situation, noting that the COVID- 19 virus can spread quickly and result in very serious medical complications in some people. Access to the Venue is provided on the basis that you will, at all times while at the Venue, adhere to those Guidelines. We appreciate your cooperation in working together to make tennis as safe as possible for everyone. We recommend that players should bring a glove or plastic bag to protect their hands when using the Pin Pad at the gate for entry. Please avoid touching surfaces when inside the entry gate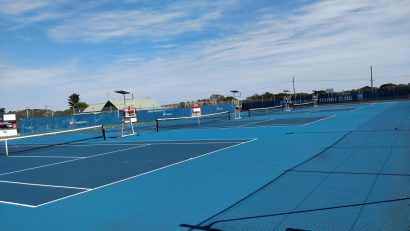 ---
Book in 3 quick steps...
2. Choose a session
Select your preferred available time and book. Register online the first time you book.
3. Confirmation
We'll send you confirmation of your participant. You'll receive a pin number to access the venue. It's easy!
How to find us
Southcombe Park Campbell St Port Fairy Victoria 3284