NWTC HAS NEW LED COURT LIGHTING
Thu, 24 Oct 2019 00:00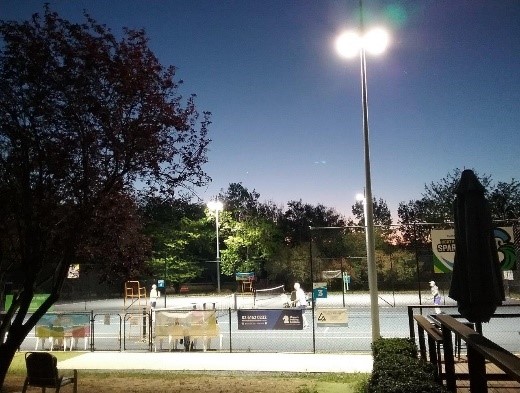 NWTC HAS NEW LED COURT LIGHTING
Gone are the days of guessing where the ball is! NWTC has invested our Club funds to replace the old and unfit for purpose, mercury vapour lighting, with competition-level Australian Standard LED lighting. The initiative gives us much better, more evenly-disbursed light over all courts and saves about 60% on our electricity usage. This "green initiative" was made possible thanks to a rebate from the ACT Government through ACTEWAGL. The rebate reduced the cost to about $32,000 which is less than 50% of the previously quoted cost. We expect to recoup our investment in about 5-6years. So, come on down to the Club for Social play on Wednesday nights and see for yourself.
We are now working towards loans and grants for 8 new court surfaces to fix the current problem surfaces. However, to do that cash flow needs to increase.
NWTC has gathered some very loyal Sponsors over the past 2 years, which has helped us to meet rising costs for our operational funding commitments of lease, rates, affiliation fees, maintenance and power etc, and has released some funds for improvements. However, given the level of commitment to disabled facilities upgrades, LED Lighting and impending Court re-surfacing investments, for a small community club, we need your support more than ever.
Please renew your membership, encourage others to join and donate generously through the Australian Sports Foundation (ASF) NWTC "Crowd Funding" page here :
Any donation that you can make is greatly appreciated and will help us improve the facilities at our fantastic Club and another plus is that it's completely tax-deductible!
We want to make your tennis experience as enjoyable as possible, so please help us to do that by supporting the Club's projects and through attendance at the annual Club Championships followed by the AGM on Saturday 16 November 2019.
Yours in Tennis
Terry Lennard
NWTC PRESIDENT
H: (02) 62380823
M: 0439695504