Club
HILLCREST TENNIS CELEBRATE 85TH BIRTHDAY
Tue, 26 Sep 2023 00:00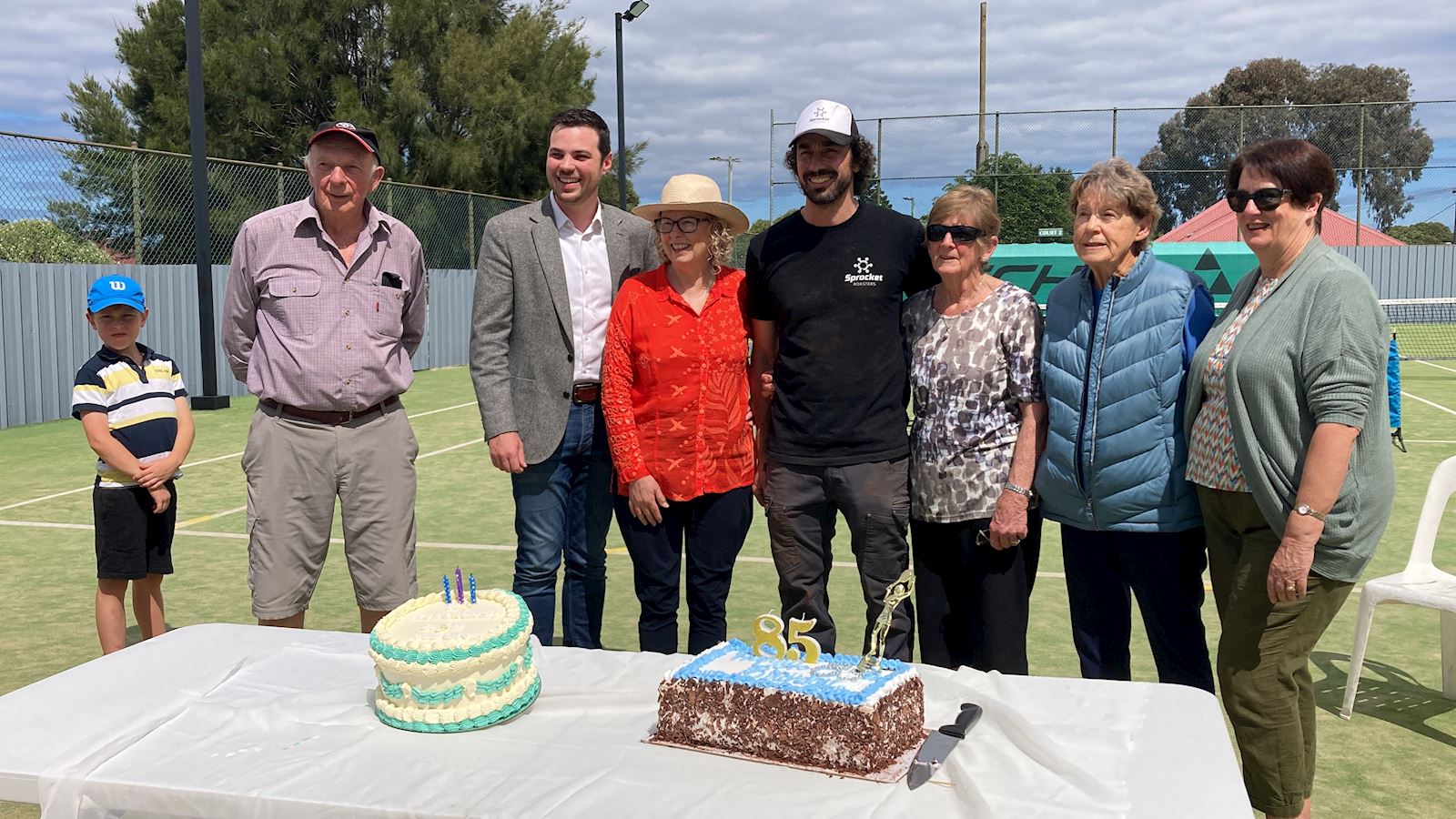 Hillcrest Tennis Club in Mayfield celebrated their 85th birthday over the weekend as they were joined by special guests Sharon Claydon MP, Federal Member for Newcastle and City of Newcastle Deputy Mayor, Cr Declan Clausen. Club President Elva Osborne said she felt that the club has been operating so successfully over the past few years it was a perfect time to celebrate a milestone.
Ms Claydon and Cr Clausen were joined by members of the club committee, life members, coach Jason Quinn and his Saturday juniors and their parents, and Tennis NSW Development Officer, Kath Barber.
Patron of Hillcrest Tennis Club, Ms Claydon was delighted to be invited to the club again and catch up with the Tennis club committee, ably led by Elva Osborne. Ms Claydon stated "the Hillcrest Tennis Club is a great example of sport catering for people of all ages. This small community facility is continuing to provide opportunities for residents' physical, social and mental wellbeing. I have my own great memories of playing on these courts and I congratulate the committee on its ongoing management of the facility".
Deputy Mayor Clausen spoke on behalf of the City of Newcastle about the transformation of the tennis club since 1938 when the club was a hub for the steel industry, and thanked the committee and the community for looking after the facility in partnership with council. Cr Clausen also acknowledged the work with fundraising, maintenance and security that has been undertaken by the tennis community, enabling Hillcrest's viable for 85 years.
President Elva Osborne spoke of the clubs' plight 20 years ago when it seemed like the club may fold but thanks to community support and local fundraising the club rallied to where it is today with a strong membership across all ages and activity levels. Elva also acknowledged the sponsorship from Newcastle Coal Services that helped the club resurface the courts when the club was very low on funds.
Today at 85 years of age the Hillcrest Tennis Club has a membership base ranging from 4 to 92. Some of the older members only come along for the cuppa and a chat each week and watch their friends on court, while the next generation of players working with club coach Jason Quinn are aspiring to enjoy their tennis and play at a competitive level.
Courts at the facility are available for hire 7 days a week with simple online booking via www.play.tennis.com.au/HillcrestTC. Elva and her team always ensure that the courts are in excellent playing condition for players of all standards.