Fred Bendixen - Father of Maroochy Tennis
The Maroochy Tennis Association was formed about 1920 and was the father of the Maroochy Tennis Association became president in 1927 and remained in office until 1948 for the exception of two years when Dr Roberts was president. During Fred's term of office the present location of the courts was opened in 1927. Articles from the local paper can be seen here and here although a little tough to read. These were made by horse and scoop by the late Martin Nicholsen when four courts were built. The first clubhouse was a residence bought for 49 pounds and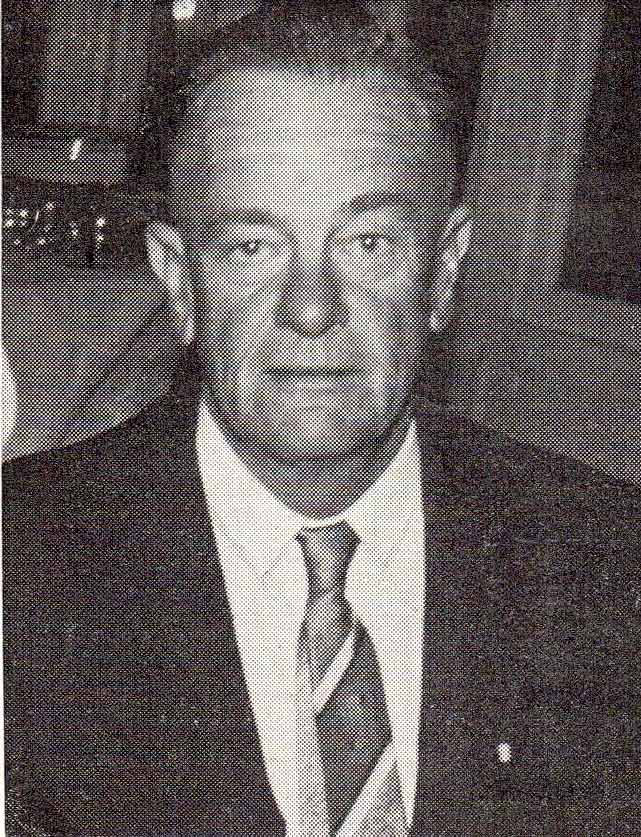 re-erected at the courts for a total cost of 118 pounds.

Under Fred's guidance the association progressed. One of the notable events in the Maroochy Tennis Calendar is the May Day Open Championships which he inaugurated. When Fred retired as president he took up honorary coaching and turned professional coach in 1954 and retired in 1966. Mr Arthur Thorogood took over as president from Fred in 1948 and under his jurisdiction a further two courts were built on the present sight. He retired as president on account of ill health in 1961. Mr "Moss" Day had 22 consecutive years membership on the executive, five years as president of the association. Under his leadership a new clubhouse costing $7000 was built and the surroundings of the courts improved.
Maroochy Pays Tribute To Its Greatest Player Ever
The name Thorogood is well known in Maroochy tennis. Six brothers, Arthur, George, Bill, Edgar, Roy and Eric arrived in the district around 1933 and immediately made their weight felt. Perhaps the most outstanding of the brothers were George and Edgar. George particularly dominated the scene. From 1935 to 1961 he won the Maroochy Men's singles championship eleven times and with his wife, Marie, the open mixed doubles championship seven times. Perhaps the most outstanding feat involved the men's open doubles which he has won 21 times, 17 of these with his brother Edgar, twice in later years with his son Noel and twice with other partners. This would be a record unequalled by any other player in Queensland and perhaps Australia or anywhere.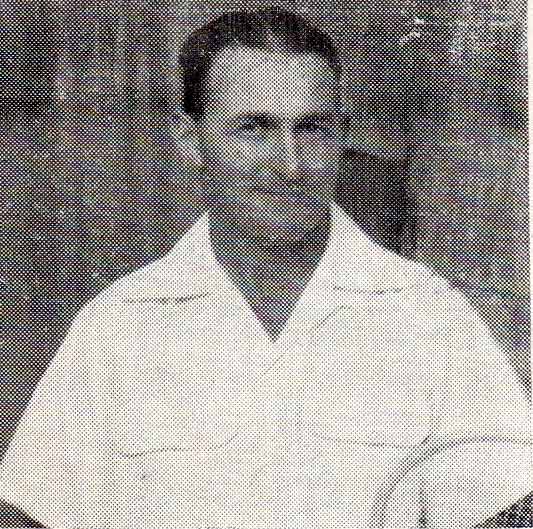 George was tournament secretary of the association for 5 years besides being on the executive for more than 20 years. George and Edgar also made a big impact on tennis in Brisbane in 1935 when they first represented Maroochy in the Country Week Carnival. Of the record number of entrants in the country events, it was the Thorogood Bros. who caught the eye. It was George who caused the first upset of the tournament when he defeated Duncan Thompson of Toowoomba in the first round, a title that the ex-football star was expected to win. During the following years they won the Country Cup for Maroochy on numerous occasions and the name Thorogood has gone down as one of the outstanding names in Maroochy tennis history. George and Edgar provided many thrilling matches to capacity crowds at the Open May Day Championships and on several occasions won the title against outstanding visiting players. At one stage during his career George was ranked No 9 in Queensland.

Among other local champions were Edgar and Les Perren, Alan Abbott, Jock Randall, Eric Spowers, Jim Achurch, Don Craig and Noel Thorogood. Perhaps Edgar Perren could be classed as the early champion of the Association when he won the men's open singles from 1924 to 1933 with the exception of two years one of which he was defeated by his brother Les.
Outstanding Lady Players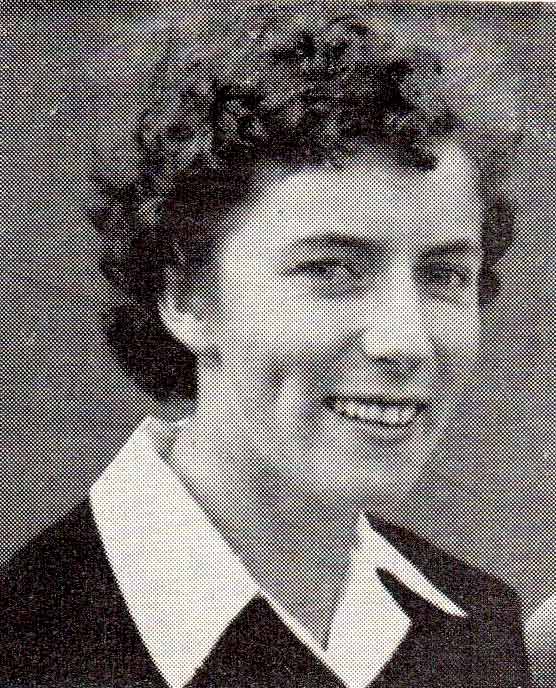 Mrs L. Seaman (nee Sousaari) was one of the best of the early Assoc. champions who won the ladies singles titles 11 times. Norma as a schoolgirl was selected to represent Queensland and also won the Under 15 singles age title in Brisbane.
Mrs N. Fereday was another outstanding Maroochy Assoc. who won the ladies open singles titles from 1939 to1949 and again in 1952. She also won the ladies singles titles at country week in Brisbane. For a number of years she won the mixed doubles championship with Edgar Thorogood. She continued playing pennant grade for over 30 years.
Mrs Lorraine Craig
Mrs Craig (nee Lorraine Saywell) as a junior was ranked in Queensland. She won the Maroochy ladies singles several times and with husband Don, the mixed championship.
Mrs F. Heaton
Mrs Heaton (nee Perren) was another of our pioneer lady champions who won the open championship about 7 years fro 1929 to 1939 ans shared the mixed doubles with her brother Edgar on several occassions.
In 1950 Jim Achurch began playing tennis at Nambour. Jim had competed at the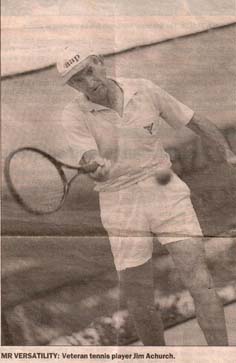 1954 Vancouver Empire Games winning a gold medal in the javelin. In 2000 Jim was selected in the Australian Veterans Tennis team and competed in World titles in South Africa. He was very well respected by all of the local top grade players.

Junior fixtures and tournaments were commenced by professional coach Mal Murphy in 1966. Since this humble beginning, thousands of young people have had the opportunity of developing their tennis. Mal was involved with tennis for many years and retired as Association president only a few years before his passing.
The Association commenced in 1924 with only 4 sandstone courts. The Association has had great success in conducting Senior and Junior fixtures and tournaments for over 80 years with the Open May Day tournament attracting players from across the State. Several of Australia's most outstanding players have played at the centre in Open and exhibition matches. These include Rod Laver, Roy Emerson, Ken Rosewell, Mal Anderson, Patrick Rafter, Neil Fraser, John Newcombe, Fred Stolle, Tony Roche, Margaret Court and Leslie Turner. "I particularly remember a night of exhibition tennis with Frank Sedgmann, Fred Stolle, Pancho Gonzales and Pancho Segura playing in front of a large crowd." Noel related to me.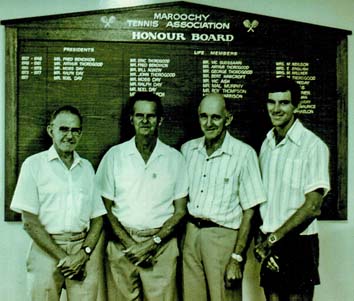 During the presidency of Maurice and Ralph Day the current clubhouse was built. The courts area was extended to include 2 more courts by the clubhouse. Later more land was purchased and the courts on Elizabeth St were constructed. The Association has always had the best of cooperation from the Maroochy Shire Council and the Palmwoods Association who also conducted many Senior fixtures with many good players competing.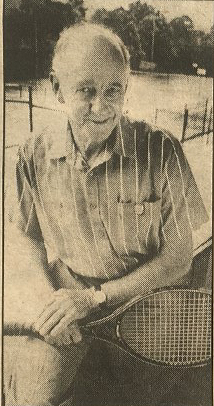 Noel Day was president from 1977 to 1989 and then again from 1991 to 1995. The early years was a time when tennis was a huge sport and in this region was centred in Nambour and so administration would have required a significant contribution. A newspaper article from 1990 states that Noel personally contributed $16000 towards building new courts in 1978 so 'local kids could play in fixtures and tournaments'. If that wasn't enough he then sold a portion of his property in 1982 and contributed another $45000 towards fencing, lighting and resurfacing from ant bed to synthetic grass at the complex. Noel was a driving force behind a May day tournament as well (our Honour Board for this events features names such as Laver, Rafter, Emerson and Newcombe) and and he is to be commended for bringing such a large event to the area.During the 60s, 70s and 80s there were many small clubs, often based on the family court which belonged to the Assoc. around the Nambour district. In his heyday Noel was a pennant grade player and enjoyed playing stints with Nambas and Fair View before he started his own club Forest Hills on his own property in 1970.