Club
BASELINE Newsletter June 2022
Mon, 13 Jun 2022 00:00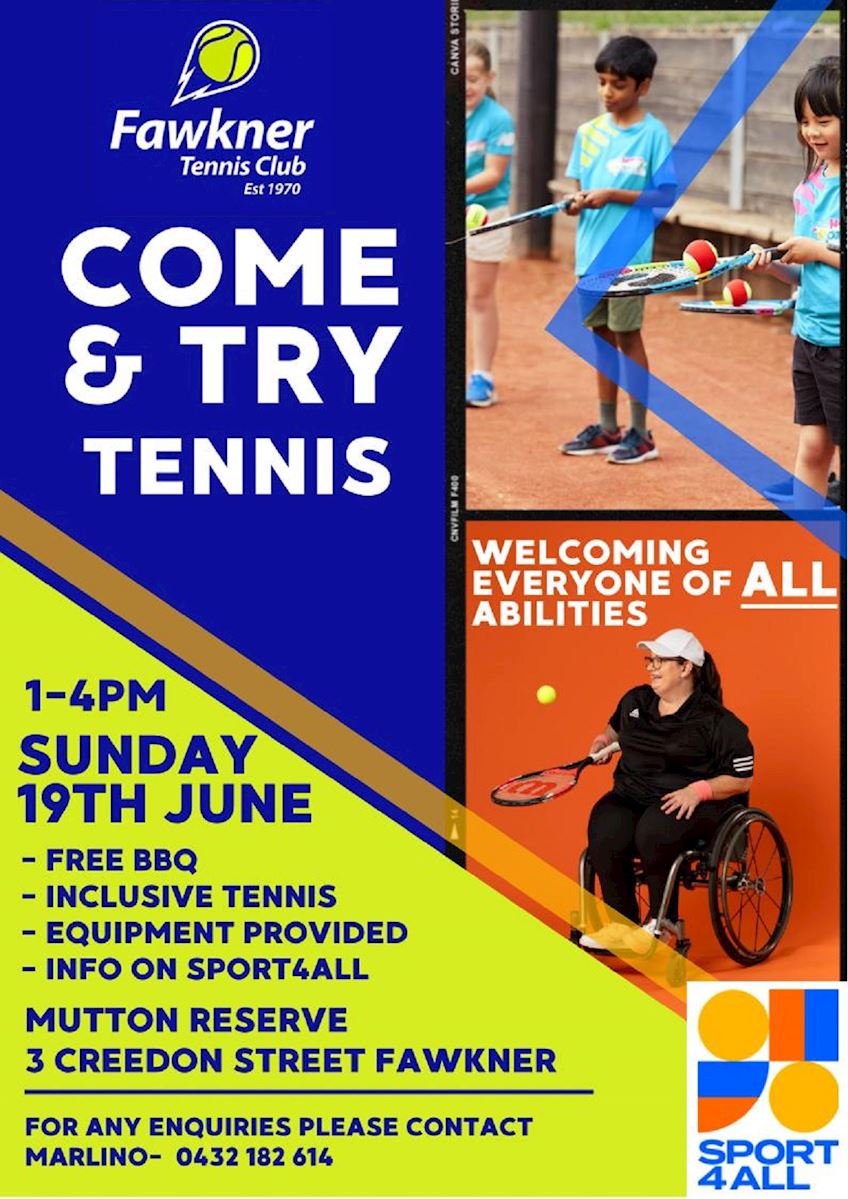 BASELINE
Fawkner Tennis Club Inc Newsletter 2, 2022
Hello and welcome to the new edition of Base Line, the newsletter for Fawkner Tennis Club.
Marlino Pascual, of BTS Tennis Academy will commence as Fawkner Tennis Club's new coach from Monday July 11th, at the start of Term 3. The coaching schedule will be available on the BTS Academy website and on the Fawkner Tennis Club page. https://www.btstennisacademy.com/home
Marlino's team will be at the club on our Come & Try Tennis Day next Sunday afternoon, June 19 from 1-4 pm. There will be sessions for all abilities, kids and adults and a free BBQ for all.
All membership subscriptions from the previous year at Fawkner Tennis Club will expire on 30 June 2022. All membership renewals are now to be done online – please apply now and renew membership via our website with the package that suits your needs.
You will need to login with your existing ClubSpark account or create one. The special meeting of the club was held and at the meeting the new fees for 2022 -23 have been revised. All membership renewals are ONLY through the club's membership page. The committee have taken all steps to keep membership rates at a reasonable level but some increases were inevitable with the running costs of the club rising over the last year.
In men's night tennis our A Grade Men's won finished on top, and both A Reserve 1 and B Grade 1, finished the season as runners up. The NSNTA men's' finals results are here.
Pennant Season so Far
The Grade 1 - Section 1 team are doing extremely well, sitting second on the ladder after 6 rounds, having just won against the top team Kooyong this weekend; the Grade 3 - Section 1 team are also second, while and the Section 4 team Grade 4- Section 1 – with a few playing their first season of Pennant are having a tougher go of it .
Come join us at the club to watch some of the home matches if you have time on Saturday afternoons during the season. The for each team is linked above.
Junior Results from last season
Our junior team in the NSJTA league, (together with East Coburg TC) came second in D grade 4 unisex. We are planning more teams in the juniors, with joint teams together with East Coburg and Merlynston clubs.
We will shortly be seeing the major redevelopment of the courts take place. This will see new courts surfaces, new lighting. The project is planned in two separate stages to enable the Club to continue some of its normal operations. With upgraded fencing, the club also hopes to offer online booking via Tennis Australia's Book A Court system.
Hope to see you on the court soon.