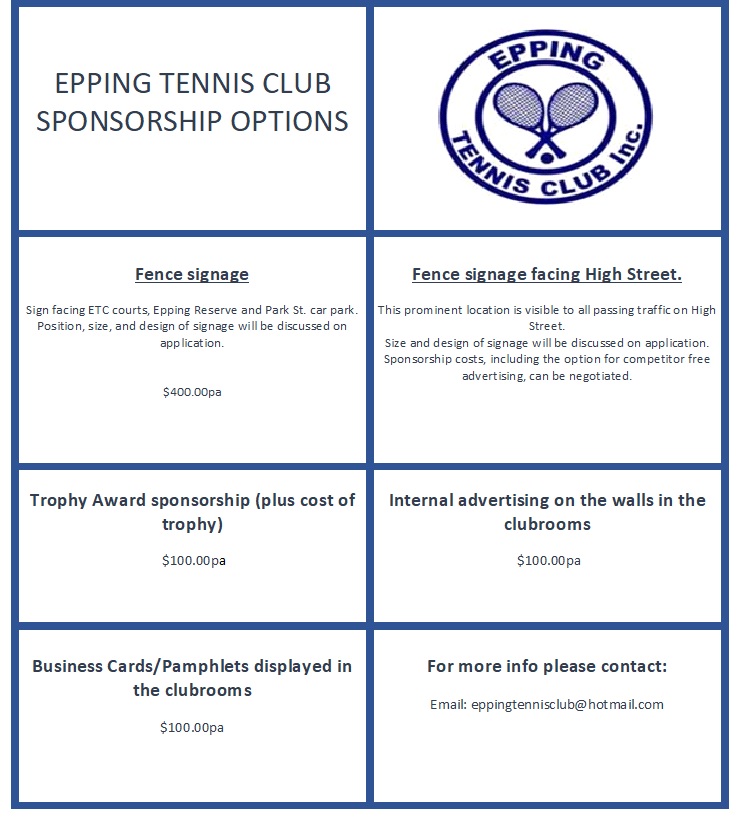 Conditions of Sponsorship
1. Sponsorship Packages coincide with each financial year. Pro rata Packages are available from commencement to 30th June.
2. Payment of the full sponsorship amount is payable to the ETC and is required by 30 June each year.
3. The supply and costs for all advertising materials will be the responsibility of the sponsor.
4. Court signage must conform to the regulations and requirements of City of Whittlesea Council and the ETC. All banners /signs must display the wording "proud sponsor of ETC and include ETC logo". No alterations will be permitted without prior approval of ETC.
5. All proposed advertising materials must be submitted to the ETC for approval before contracts are agreed.
6. ETC will advise re the permitted square meterage (current council guideline 2.6sqm)
7. The allocation of sign positions will be decided on a first come, first serve basis, where a signed sponsorship agreement secures a position.
8. If there is a requirement to remove or relocate a sign it will be done promptly by the Sponsor.
9. ETC will not be responsible for any damage to a sign for any reason.
10. Payment will be renegotiated in June each year for the period commencing in 1st July of that year.
11. The ETC reserves the right to cancel a sponsorship agreement at any time if the ETC believe that the agreement is not in the best interests of ETC. e.g. if the sponsorship became detrimental to the reputation of ETC.
12. Sponsorship arrangements will be external to any matter related to membership and will not include any membership benefits.
13. Tax invoice will be supplied on request.