Club
Play safe and keep our community COVID Safe!
Fri, 24 Jul 2020 00:00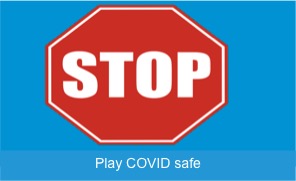 It is important that you continue to have access to the most up to date information about safely playing tennis in your community following the release of revised guidelines by Tennis NSW on 2 July 2020.
Doubles play continues to be permitted and Monday night and Tuesday social tennis activities and the new winter comp are all continuing with arrangements in place for us to play safe. Coaching services including Cardio tennis are all up and running - look out for updates in Club Coaching or contact super coach Dave on 0424295634.
All courts are open, outside of programmed coaching activities. Staggered booking times between Court #2 and Courts #1 and #3 are in place and a half hour gap has been applied between bookings. This is to maximise physical distancing at the facility.
Temporary safety fencing has been erected between Court #1 and Courts #2 and #3 to minimise balls straying between courts. Part of the fencing has been temporarily removed to allow access to Court #1 (via Court #2) while we wait for the new gate to Court #1 to be installed. This is to maximise physical distancing at the facility.
On top of these arrangements the committee asks that you please play safe and help keep our community COVID safe by following these simple rules:
Play and Go - start play promptly and leave straight after your booking ends
Practice good hand hygiene - wash your hands and wipe down the keypad upon entering and leaving
Maintain a safe distance (1.5 metres) between you and others at all times
if you've been to Victoria or any of the NSW COVID hot spots, or been with someone who's visited Victoria or one of the NSW COVID hot spots, in the last 14 days, self isolate at home for 14 days - if you develop COVID 19 symptoms arrange to be tested asap.
If you've been with someone in the last two weeks who has COVID-19 or just returned from overseas, stay at home
If you're in a high risk health category (refer to the guidelines below) please stay at home.
Read the COVID-19 Community Tennis Guidelines for Continued Play.
Play safe so that our community stays COVID safe!