Competitions
Belgrave Tennis Club is affiliated with:
• Knox District Night Tennis Association
• Waverley District Tennis Association
• Ferntree Gully Wednesday Ladies Tennis Association
• Dandenong District Tennis Association
• Berwick District Tennis Association
We currently offer;
• Night mixed, men's and ladies doubles competition (Mon-Thurs)
• Morning ladies doubles competition (Wed-Thur)
• Juniors competion (Sat morning)
• Social Tennis for all ages
• Annual Club Championships (singles and doubles)
You must be full financial member to play competition tennis. Join online now.
---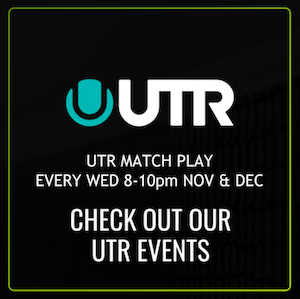 During Nov & Dec every Sunday afternoon and Wednesday evening we are hosting a UTR Match Play Social Competition. These sessions are perfect for those who want to play competitive matches but can't commit to regular team comp.
UTR is the Universal Tennis Rating, an international rating system that ignores age and gender, allowing us to create events that provide competitive matches with people at your level.
Cost will be just $5 for and all results will be entered into UTR to add to your rating.
---
We welcome new players to join our teams in various sections and standards of play. If you have any queries regarding competition tennis please send an email to belgravetennis@gmail.com and the relevant delegate will contact you, OR phone 9754 3602 OR by facebook .