Programs
Offering a wide range of programs, including Hot Shots and Tennis 4 Teens, whether you're new to tennis, or looking to perfect your swing, you've come to the right place.
Let's enjoy your game in herel!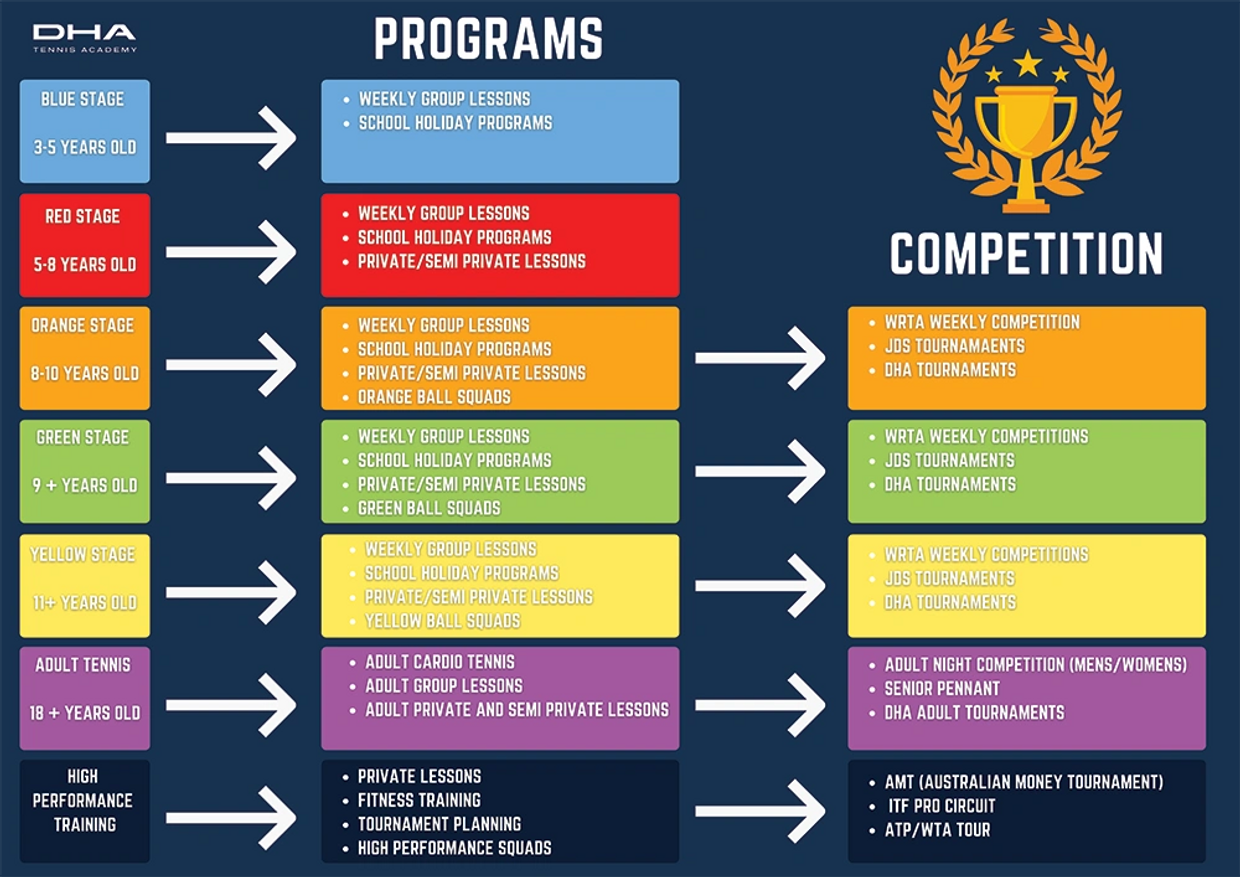 Group Tennis Lessons (ANZ HOT SHOTS)
ANZ Hots Shots group lessons are designed for kids from ages 3-12 to learn not only tennis skills but also agility and coordination's skills in a fun and social environment. The program is divided four different stages to ensure players are playing at the right level.
ANZ Hot Shots is a program designed to help every child, no matter their age or ability, jump in and start playing tennis.
Blue Stage
Ages: 3-5 years
Tennis Ball: Red Ball (25% compression so it doesn't bounce too high)
Racquet Size: 19-23 inches
The Blue Stage (Launch Pad Stage) introduces children to tennis through games and fun activities. Children learn the basics of tennis including how to rally. This stage really helps children develop their fundamental motor skills like throwing, running, catching, jumping and most importantly, tracking. This is a great way for kids to start tennis and have fun along the way.
Red Stage
Ages: 5-8 years
Tennis Ball: Red Ball (25% compression)
Racquet Size: 21-23 inches
The Red stage is for beginners. The red ball is larger than a yellow ball and doesn't bounce as high (just 25 per cent compression), making it easier for young players to hit comfortably. The courts and nets used in the Red stage are much smaller and easier for kids to move around.
Orange Stage
Ages: 8-10 years
Tennis Ball: Orange Ball (50% compression)
Racquet Size: 23 - 25 inches
After mastering the Red Stage, children move on to the Orange Stage where the ball bounces a little higher (50 per cent compression) and the court is a bit bigger.
Green Stage
Ages: 9+ years
Tennis Ball: Green Ball (75% compression)
Racquet Size: 25 - 27 inches
The ball used in the Green stage has a higher compression (75% of a yellow tennis ball) and children will learn to play on a full-size court.