Club
Viewbank Tennis Club Update - June 2022
Sun, 05 Jun 2022 00:00
We are just touching base before we head into what it already seems like a very cold winter season. Heres what's going on around the club.

Book a Court
Reminder! –
Please make sure all names are included in your booking
Please make sure all attendees have read the terms and conditions of entering VBTC premises (found on the booking page)
Please allow up to 1 hour prior to your booked time to book a court
Please make sure your 4 digit code and # is entered in the keypad on entry (This is the only way the Book a Court system knows you are playing and if lights are required will turn on)

To book a court please click here.

Working Bee – Sunday 12th June (9am-1pm)
We are needing a few volunteers to assist the committee with the removal of some garden shrubs and bushes. We also aim to reinstate the practice nets we originally had on some of our courts prior to the last lockdown. We will be providing a BBQ lunch for all helpers.

If you are available, even for a few hours please get in touch by emailing secretary@viewbanktc.com.au so we can confirm numbers for the day as well as catering.

Membership 2022/23
Renewals have been sent for the 2022/2023 membership year. Members would need to pay their new membership by the 30 June 2022 in order to have court access from the 1st July.
For more information click here.
Lights on court 7 and 8
The LED lights upgrade is now completed on court 7, and are ready to be booked and used at night.
Court 8 upgrades are underway and should be completed by mid June.
Family day
"SAVE THE DATE"
We are planning a family day to be held on Sunday, 26 June 2022.
Time: 12-3pm
Date: 26 June 2022
One of our club sponsors, Back In Motion Physiotherapy (Eltham/Viewbank) will be there on the day to give us all some tips and advice on well being.
More details to come….
Works around the grounds and Grants
We have had a big month of making progress on works around the club, as well as being successful in obtaining grants for future programs and work.
- we held a working bee back on 15 May 2022, and tidied up around the club (inside and outside) and taking things away for hard rubbish collection. We also replaced wind breakers on courts 1 and 5, that had been damaged.
- we are getting more en tout cas and sans laid on courts 1,2,3,4,5&6.
- we are applying for a grant to cover the cost of new nets and net tapes for courts 1,2,3,4,5&6.
- we received an $8,000 grant from Kate Thwaites MP to replace two older fences in the club grounds near court 2 and 7, buy a defibrillator for outside the clubhouse and to buy new bins (recycling and rubbish) for the club grounds and replace the old bins.
- we received a grant from Tennis Victoria to go towards running a tennis program for youths and partnering with a mental health organisation like Headspace. More info to come.
- we received a grant from the Victoria State Government to run a ladies twilight comp over spring/summer, and also a girls morning competition over the spring/summer as well.
- we received a $2,000 grant from the Victoria State Government to help us a run strategy and planning session for the club, to help consolidate our current strong position and build an even better base to move into the coming years.
Competition

Night tennis
The Autumn Night tennis has come to an end now.
Congratulations to Men's 9, Men's 12 & Vets 8 all reaching Semi Final, all losing in very close battles.
Well done to all teams and players for the season just gone. We have appreciated your understanding and patience while things have been tough with supper rules. It's now great to see these rules relaxed and ready for next season!
Don't forget, to put in your team entries for Spring by 3 June 2022. If you know anyone who is interested in playing night comp, please contact nightcomp@viewbanktc.com.au
Juniors
Saturday morning JNRS still have a couple of rounds to go before finals for the Autumn Season.
Friday Night Junior Mixed Team, Section 5, have finished 4th on the ladder and will be playing in a Semi Final.
Again, well done to everyone playing this season!
Congratulations to all the Junior teams making finals.
Pennant
After 5 rounds, our grade 7 pennant team is sitting on top of the ladder. Well done to the guys on a strong start to the season.
Member loyalty benefits
We have been working on a couple of great sponsor initiatives, to give back to our members in a different way.
Below are our current club member loyalty programs with our club sponsors.
Back In Motion Physiotherapists (Eltham/Viewbank) - get a free first initial assessment and $30 off your first visit! https://www.backinmotion.com.au/eltham
Sports First Eltham - get 5% discount on every purchase! https://sportfirsteltham.com.au/
We will be adding to our sponsors and loyalty program over the next little while, so please keep up to date on our website and Facebook pages.
https://play.tennis.com.au/viewbanktennisclub/News
https://m.facebook.com/viewbanktc
Ball recycling - Game On Recycling
Did you know that an estimated 10 million tennis balls are purchased in Australia each year?
Unfortunately, at the end of their useful lives, all of them end up either in landfills or in our waterways, eventually working their way into the ocean.
To address this environmental concern, Viewbank Tennis Club has partnered with Game On Recycling (a new program by Wilson Sporting Goods Co and Australia New Zealand Recycling Platform) to collect and recycle tennis balls. From now on, you can dispose of your unwanted tennis balls in the collection unit just inside the door of our clubhouse (near the mens toilet). Here is a photo of the unit.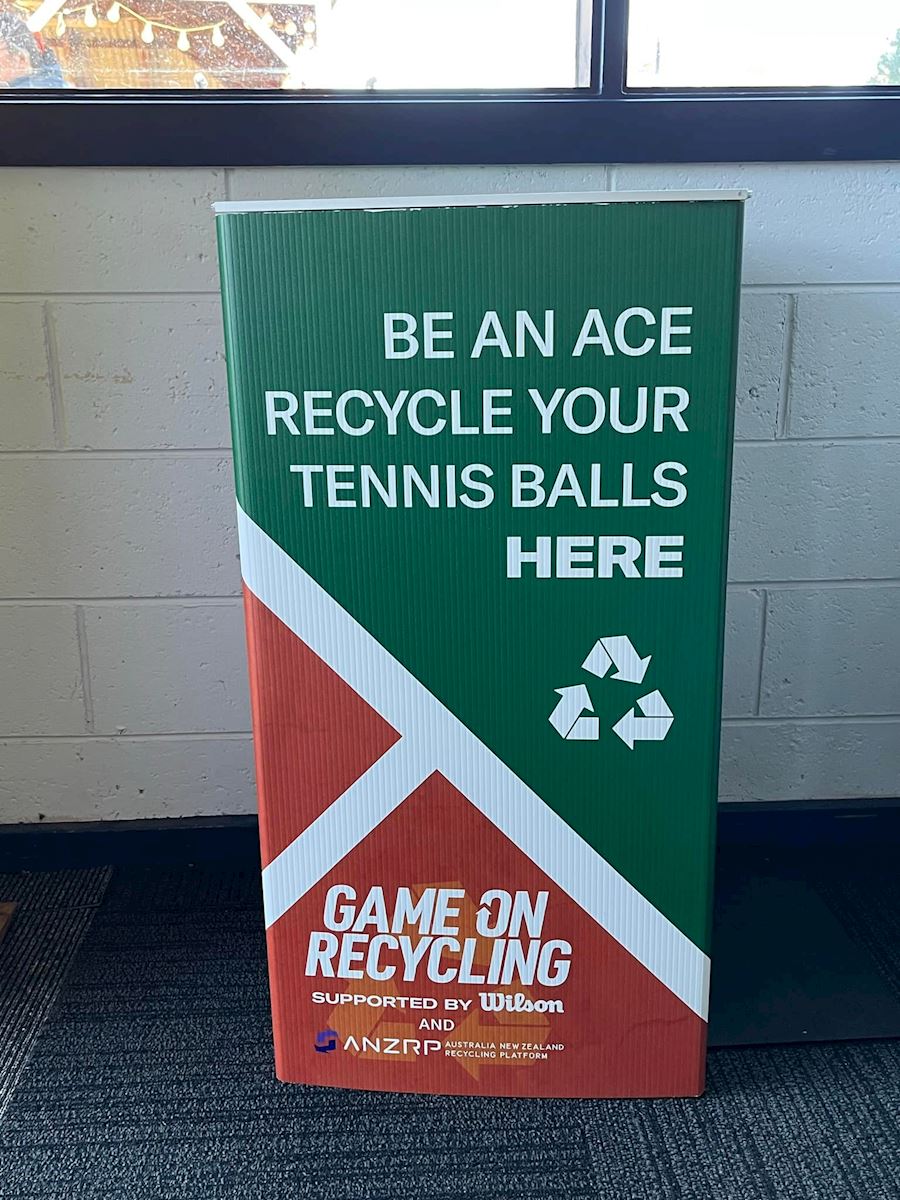 All collected items will be sent to a processing facility in West Melbourne to be sorted into:
● Tennis balls that can be reused and put back into circulation, thereby extending the life
of the product; or
● Tennis balls that have well and truly come to the end of their life and need to be recycled
You can learn more about this exciting and innovative project here: https://gameonrecycling.com.au/pages/about-us
If you have any older balls that you don't need or no longer use, please head down to the club and put these in the recycling unit. Or send us an email at info@viewbanktc.con.au if you want to drop off any balls to us to be recycled.
Thanks everyone for our support in this initiative.
We wish everyone a good break between seasons.
If you have any questions or feedback, please don't hesitate to contact us at info@viewbanktc.com.au
Kind regards ,
Viewbank TC committee
Viewbank Tennis Club Inc acknowledges the Wurundjeri Woi-wurrung people as Traditional Custodians of the land and we pay respect to all Aboriginal and Torres Strait Islander Elders, past, present and emerging.
Our club is proud to be one of inclusiveness and welcomes all of our community, both members and non- members, no matter their culture, background, abilities, sexuality, beliefs, age or gender.