Covid-19 Update
Sat, 16 May 2020 00:00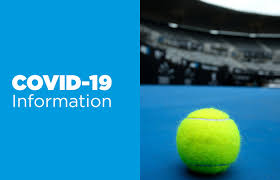 The general principles (Conditions of Play) that will apply in the NWTC tennis facilities are:
The motto is: Get in, train and get out.
Sanitise your hands before and after touching the court entry "key entry pad".
Maximum groups of 10 which includes coach/coordinator, participants, and spectators. Multiple groups of 10 are permitted at the one venue on the basis of the one person per 4 square metre rule, however there should be no cross over of these groups (social or on court activity).
Clubhouses to remain closed (toilets for emergency use only). Toilets can be used if absolutely necessary, but rigorous hygiene is to be practiced and the toilet cleaned by the user afterwards and then hands washed.
Small group coaching allowed – for the purposes of Junior Coaching, RSTA will apply group sizes of four per court. This accounts for the coach, 4 students and 4 accompanying adults within the group of 10 or up to 8 students should adults wish to remain in their cars. There may be other group coaching sessions you will need to apply this logic to eg. Cardio class for parents (who also bring children along).
Sharing of balls for coaching – the recommendation remains that coaches only handle balls.
The e-booking system is open for bookings under the modified system for Members and Casual Court Hire for up to 4 people per court.
Hand sanitiser will be provided before and after your booking. It is a requirement if you are hiring the courts to clean hands before and after your booking and you maintain a social distance of 2m apart at all times when in the venue.
Outdoor sports only.
Groups of a maximum of 10 people and there is to be no "congregating" between groups near entry ways, gates or on the club house deck.
Spectators should watch from their vehicle/outside the facility if possible, however children may be accompanied by one parent/adult if needed.
Practice good hand hygiene before and after training.
Changerooms, canteens and kitchens remain closed – arrive dressed and ready to train.
Stay home if you are unwell. If you experience any symptoms of impending illness while at NWTC you should report this to the RSTA/NWTC staff on site and then seek assistance through the health system. NWTC will report any illness to facilitate ACT Health to contact tracing, if necessary.
Don't share drinks or towels.
Sharing of equipment such as balls and weights is allowed however, should be kept to a minimum.
Follow the one person per 4 square metres rule to ensure sufficient physical distancing between participants.
To Book a Court, click on the link below:
https://www.risingstartennis.com.au/book-a-tennis-court/
As a club we understand that many of your family, friends and those known to you are suffering deeply. The NWTC Committee acknowledges that this is YOUR club and a club for the entire community. Accordingly, we welcome any feedback from you.
Please stay safe by following official advice and the guidelines.