June e-Newsletter
Tue, 08 Jun 2021 00:00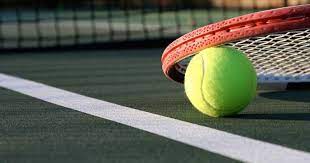 Hi everyone. Lots to cover again in this newsletter as we wait with fingers crossed to be back on the courts very soon. When we do come back, please remember to scan a QR code on the gate or door as it's never been more important.

Membership renewals
As advised in the last newsletter, you should now be receiving membership renewals for next financial year. Our fees remain the same as they have for many years and you will be able to pay online as part of the new system introduced with Book A Court. The emails may look slightly different so check your junk folder and if you have any questions or concerns, please contact Scott at treasurer@mgtc.com.au. Please ensure you advise us if your email changes and a reminder that it is club policy that all competition players must be paid up members.

Uniform orders
Orders for hoodies and t-shirts have been placed and we expect delivery in early July. A few people missed out last time so I have the opportunity to place another order (for t-shirts only) if orders are placed by Monday 14 June. Order online here https://mgtc.com.au/shop/

Annual General Meeting
Like many sporting clubs, Mountain Gate Tennis is run entirely by volunteers and committee members give up their time to make sure everyone can enjoy tennis socially or competitively and use our great facilities. Fortunately the majority of the committee have agreed to stay on for another year while some positions will be declared vacant. Please come along to our AGM on Wednesday 21 July at 7:30pm and help out in any way. We are particularly keen to have a communications officer join to produce this newsletter and update our social media. Perhaps a student who is keen to hone their skills or gain some experience while studying. The committee meets on the first Wednesday of the month (except January) at 7:30 in the club rooms.

Bunnings Sausage Sizzle
Even if you can't join the committee, you could help out at our Bunnings Sausage Sizzle in Scoresby on Saturday 26 June. We need four people on at all times so even a two hour shift would be a great help and it's a fantastic fund raiser. Please contact Sally on 0425 785 108 if you are available.

Mid-week Ladies Competition
Sadly the mid-week Ladies team are retiring after finals at the end of this season. We wish Glenda McAlpine, Jill Wood, Fiona Kalisperis, Karen Coster and Angie Furlong all the very best as they leave with fond memories of all the flags, hits and giggles, that came with playing some awesome ladies on a Wednesday. If there are any ladies interested in joining the Ferntree Gully midweek ladies association it's easy to register and Glenda is happy to answer any questions. The games normally run on Wednesdays and Thursday from 9:30 am to 2:00 pm. As long as you are registered to a club (hopefully ours) you can also register as a fill in. Details at ftglwta.org.au.

Night Competition
And for anyone interested in playing or filling in at the night competition, please contact Peter Tor'Bey on 0419 727 170.

That's all for now - hang in there and stay safe and I hope to see you down at the Club soon.