Category of Membership and court costs
Adult, Country, Couples, Family, Mid-week and Under 25 memberships use courts for free for off peak bookings and get a member discount for peak times
Junior and Pennants Only members use courts for free for off peak bookings and pay general public rates for peak times.
Parent as a hit up partner and social members pay general public rates for peak and non peak times. The parent as a hit up partner means they are able to join their junior member child for a hit up (no cost) but not book courts at member rates for own use.
Court Bookings - for all members and non members
All members and non-members wanting to use the courts must book via the Book a Court system before playing. If another party is on your allocated court at the time of your booking, please advise that party of your booking. All those booking courts are asked to use their allocated courts unless directly requested to move by the Club Head Coach or his delegate.
Hire Charges (minimum hire period is 1 hour)
Court hire costs depend on your membership status and the time of the day. The club operates on peak and off peak schedules, with peak times commencing at 6:30 pm for members and 5:30 pm for guests (from 1/10/23 - 30/4/24).
From 1st May - 30th Sept, the club has a consistent 5:30 pm peak time for both members and guests.
Off-Peak: Members are free and Guests pay $15/ hr
Peak: Members pay $15/hr and Guests pay $20/hr (lighting costs included)
For Members playing with guests
For play at off-peak times,
Members playing with up to 3 guests pay $10/hr (enter only 1 guest name in your booking).
For play at peak times,
Members pay $15/hr which includes up to 3 guests. There is no requirement to include guests names in your peak time booking.
The revised costs have been introduced to simplify the booking for members playing with non members and therefore ensure the correct court fees are being recovered.
Booking a Court for Junior Members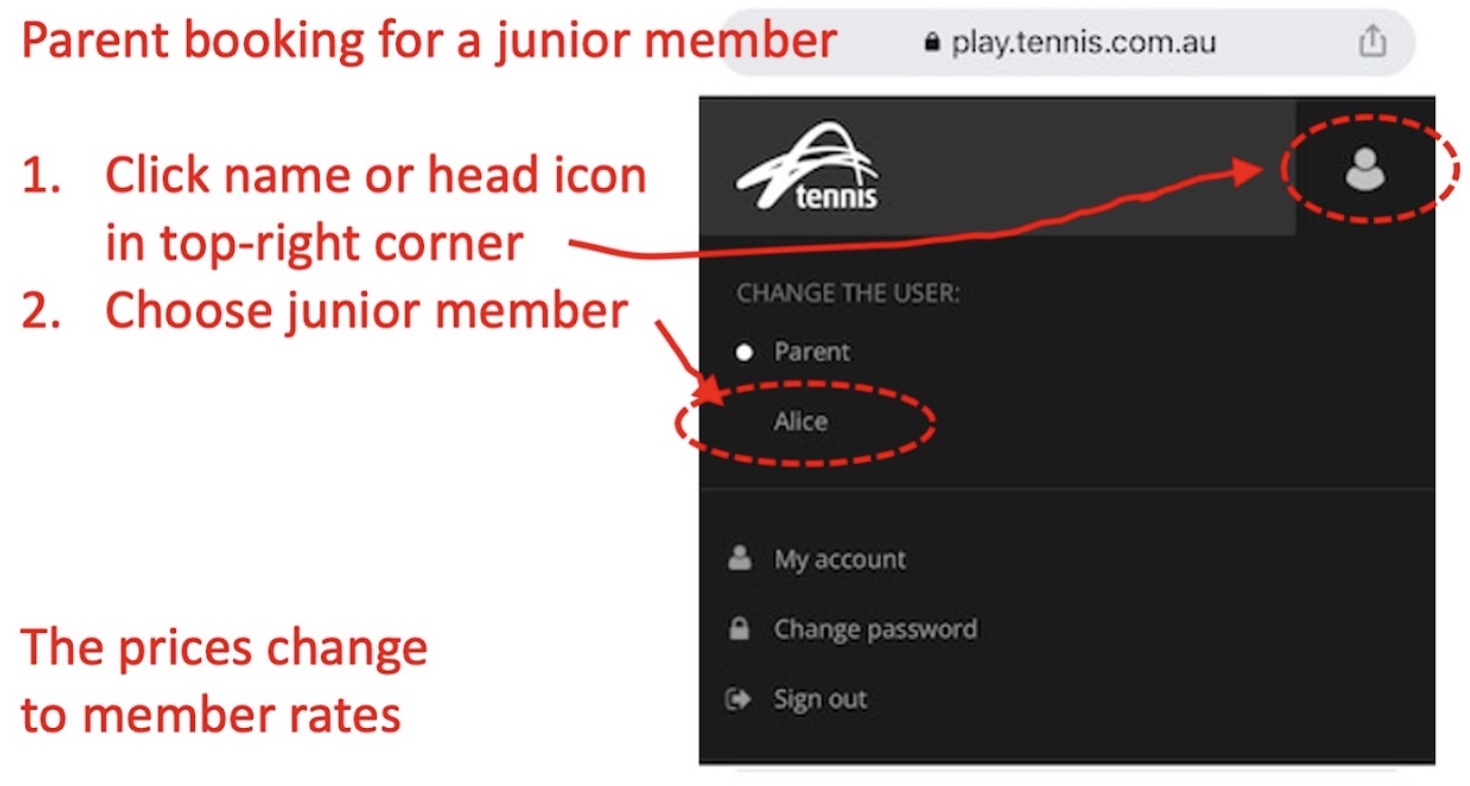 A parent (or guardian or "Main contact") can book a court for a junior member (they cannot do it themselves). Just make sure you are acting on their behalf by logging and clicking your name in the top right hand corner and then selecting the junior members name.
For queries on the Book a Court system or help in making your booking, please call 1800 PLAY TENNIS (1800 752 983) or email play@tennis.com.au
The club Booking Coordinator e-mail: info@floreatparktennisacademy.com
Terms and Conditions of Court Use
Click on the following link: TERMS AND CONDITIONS