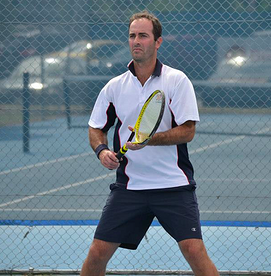 TASS VASILIADIS
Program Director/Head Professional
Tass brings a wealth of experience and expertise to the Coburg Tennis Club.
​
An elite junior, Tass was ranked No. 1 nationally, represented Victoria and Australia, and was an AIS Scholarship holder. As professional he achieved a career high ATP ranking of 360, won ITF Futures events and represented Greece in Davis Cup for 9 years.
As a coach, Tass has a wealth of experience having worked with ATP/WTA players, nationally ranked juniors and players of all levels. Having experienced numerous training programs in Australia and Europe, Tass offers an abundance of knowledge in structuring training programs that cater to the specific needs of individual tennis players. His experience as an elite player enables Tass to have a thorough understanding and flexibility to adapt to a players needs.
With his extensive experience Tass can provide all players with support, motivation, understanding, guidance, goal setting and a positive role model to be the best they can be.
Call Tass on 0414 094 738